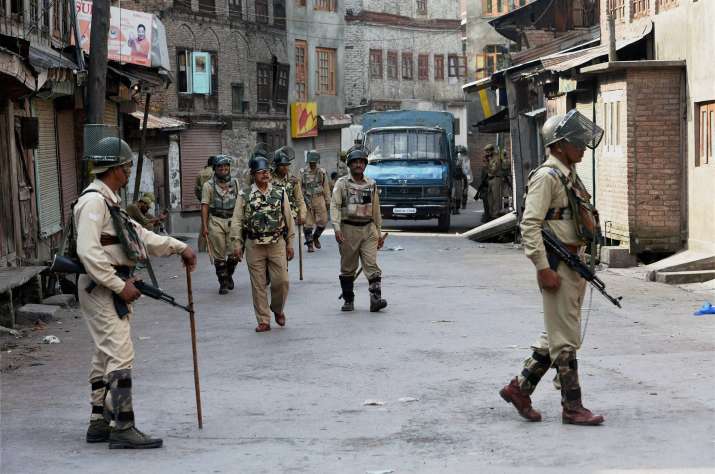 Srinagar: As the curfew entered ninth day in Kashmir today, local newspapers failed to hit the stands for the second consecutive day in the Valley after the government's alleged "clampdown" on the media. 
No local paper--English, Urdu as well as Kashmiri--was available as the newspaper owners decided not to publish them after authorities yesterday allegedly raided some media houses and seized their printed copies. 
An information blackout has been created in the state with the government cracking down on newspapers and blocking cable TV amid tight security restrictions. However, Cable TV was restored on Saturday evening with exception of Pakistani channels. 
On Saturday, authorities banned newspaper publication in Kashmir for three days, Hindustan Times reported. 
The diktat was issued after police raided media houses and shut down a major printing press in what is being seen as the most sweeping information blackout in the valley rocked by violence.
"The undesirable step was taken to ensure peace," Nayeem Akhtar, a senior minister in the state government said.
"Pakistan has given (a) black day call. There is an attempt to subvert peace, it is an unusual situation so we were forced to take such an undesirable step," Akhtar said. 
Journalists at a meeting of newspaper editors and owners termed "it as an attack on the freedom of press and vowed to fight back at all costs".
Shujaat Bukhari, the editor of the Srinagar-based Rising Kashmir said the ban order was conveyed verbally to editors by a government official.
Newspaper editors issued a statement in which a government official was quoted as saying that the ban "is in view of apprehensions of serious trouble in Kashmir valley in the next three days aimed at subverting peace…strict curfew will be imposed and movement of newspaper staff and distribution of newspapers will not be possible".
Bukhari termed the ban a "press emergency" and said that such steps were not taken during the violent streets protests in 2008 and 2010.
"There was gag then also but today for the first time they have formally asked us not to publish," he added.
"The government doesn't want the public to know the ground situation. We will publish online but with a ban on internet, who will it reach."
Abdur Rasheed, the circulation manager at Kashmir Images, told IANS that a police party came in civvies and raided the daily's printing press on the city's outskirts around 1.30 a.m. on Saturday.
"They asked us to stop the printing machine immediately. And took away some 1,500 printed copies of an Urdu daily (that prints from the Kashmir Images press)," Rasheed said.
The policemen also took away printing plates of the English daily. "The police told us that the gag is for three days and the press should remain closed till then."
Bashir Manzar, Editor of Kashmir Images, said the gag on the media would lead to street rumours getting "terribly dangerous in the current Kashmir situation".
"By gagging the local press, you (government) are blocking your own channels of communication. How will you reach out to the people now?" he asked.
Other newspaper publishers said on their web editions that employees working for their printing presses were also arrested.
"Policemen seized the plates of 'Greater Kashmir' and printed copies of 'Kashmir Uzma' (Urdu daily) and closed down the printing press," according to a report on the website of Greater Kashmir, one of the largest circulated English dailies in the Valley.
Another English daily, Rising Kashmir, had finished printing its edition and was about to be circulated when some policemen raided its distribution site, it said on its web edition.
The Kashmir Times press, which prints many Urdu and English dailies has also been locked down.
Attempts to seek an official version of the events did not fructify. 
Curfew remains in force in Kashmir 
Srinagar: Curfew remained in force in Kashmir and normal life paralysed for the ninth day today in the wake of clashes following killing of Hizbul Mujahideen commander Burhan Wani that left 41 persons dead and over 3100 injured. 
"All 10 districts of Kashmir valley continue to remain under curfew today as a precautionary measure for maintaining law and order," a police official said. 
He said the decision to continue the curfew was taken to maintain law and order as one person was killed in fresh violence in Kupwara district yesterday. 
Police and paramilitary personnel have been deployed in strength across the Valley for strict implementation of the prohibitory orders, the official said. 
He said the situation so far across the Valley was peaceful. 
"We are watching the situation and hope the day passes off peacefully," he added. 
While all telephone services to three north Kashmir districts were snapped yesterday, mobile telephone services in the Valley remained suspended to prevent any rumour-mongering. Only BSNL mobiles are working in the remaining seven districts of the valley. 
Mobile Internet services continued to remain suspended for the seventh day today while trains are also off the tracks in the Valley as a precautionary measure. 
Violent protests have rocked Kashmir since July 9 following killing of Burhan Wani and two of his associated in an encounter with security forces a day earlier in Kokernag area of Anantnag district. 
In the ensuing clashes with security forces, 39 persons including a cop have been killed while 3160 persons including 1500 security force personnel have been injured. 
Normal life has remained paralysed since last Saturday in ashmir on account of separatist sponsored-strike and curfew-like restrictions imposed by authorities. 
The separatists groups -- both factions of Hurriyat Conference and JKLF -- have been issuing strike calls, a practice reminiscent of 2010 summer agitation. 
The separatists groups have extended the strike call till Monday evening.