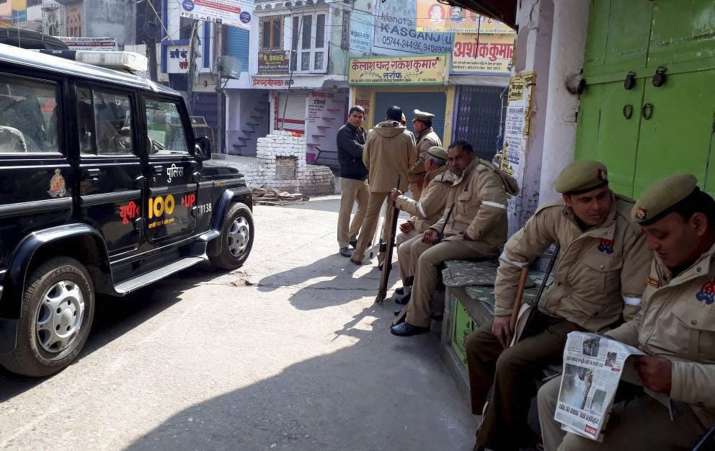 Rahul Upadhyay, whose 'death' added fuel to the rampant violence across Kasganj district of Uttar Pradesh is alive, the police said on Monday. The UP Police has apprehended four people for spreading false rumours of his death. 
Confirming the news, Sanjeev Gupta, IG Aligarh Range on Monday said, "Contrary to rumours spread on social media, Rahul Upadhyay is alive. We have arrested 4 people for spreading false rumours."
Upadhyay had allegedly died, along with another person named Chandan Gupta, following stone-pelting by a mob on a motorcycle rally taken out to celebrate the Republic Day. 
Enraged by the false rumours of his demise, the mob staged violence and torched several vehicles and shops over the course of three days, resulting in the death of one person. 
Till Sunday, the security forces had apprehended at least 112 people. The special forces intensified vigil, Rapid Action Force (RAF) and Provincial Armed Constabulary (PAC) took out flag marches. Curfew was imposed, the internet was suspended, and three drone cameras had been deployed for aerial surveillance.
Explosives were found during house-to-house searches following which the state police chief said the stringent National Security Act (NSA) would be invoked against the culprits. 
The Yogi Adityanath-led government, meanwhile, stressed that the guilty would not be spared.
"The IG, Aligarh has ordered the setting up of a special investigation team which will go through all evidence and objectively probe the case," the ADG (L&O) said on Sunday.
In Lucknow, DGP OP Singh said, "We are speaking to people, the guilty are being arrested, intensive checking and house-to-house searches were undertaken. And this is the reason why the situation is absolutely under control." 
 Referring to the incidents that led to the violence, he had said on Sunday that there was stone-pelting between two groups resulting in the death of one person and injury to another.  "The police acted swiftly and controlled the situation, and we have intensified patrolling since the outbreak of the tension," the DGP said on Sunday. 
Asked whether any permission was taken for a 'Tiranga Yatra', the DGP said no such nod was required.  "January 26 is a national event, and no permission is needed. This was a 'prabhat pheri' (morning event)...Some anti-social elements started pelting stones. Police immediately reached the spot and controlled the situation by arresting a few people. Since then, we are keeping a close watch. Today, there was no worrisome incident," he had said.  
The rumours spread online had claimed that Rahul Upadhyay had succumbed to his injuries in the hospital. But since he has been approached by reporters who have confirmed that he is fine.
(With inputs from PTI)