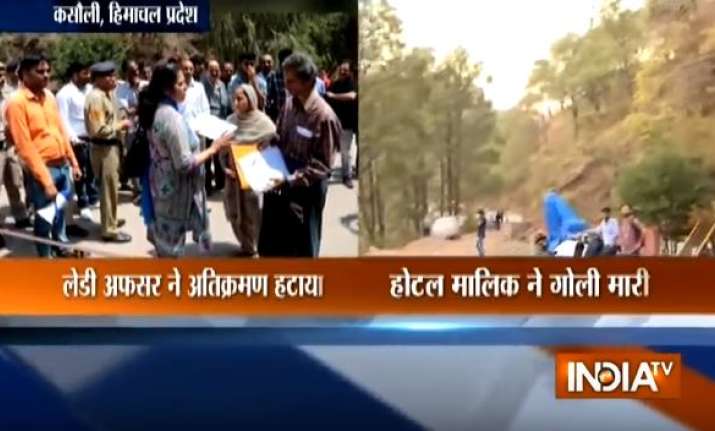 Taking suo motu cognisance of the incident in Himachal Pradesh's Kasauli where a woman official was shot dead during a demolition drive, a furious Supreme Court on Wednesday said that it would stop passing orders if people would be killed in such brazen manner.
Describing the matter as 'extremely serious', a Supreme Court bench said that the case should be placed for hearing before the Chief Justice.
"The matter be placed before the CJI, request the CJI to list the matter for consideration tomorrow.We might stop passing any order if you are going to kill people, the apex court's bench said.
A woman official was shot dead by a guest house owner during a demolition drive in Himachal Pradesh's Kasauli town on Tuesday. The owner of a guest house opened fire at assistant town planner Shail Bala following an argument. 
The guest house owner identified as Vijay Thakur fled the spot immediately after firing at the official. The police have launched a search operation to nab him. The police have also announced a reward of Rs 1 lakh for those informing it about the whereabouts about the accused who owns Narayani Guest House. 
The Supreme Court in its April 17 order had asked concerned authorities to demolition of illegal constructions at several hotels and resorts in the picturesque Himachal Pradesh town of Kasauli, saying the life of people cannot be endangered for making money.
Watch: Woman official shot dead during demolition drive in Kasauli
The apex court observed that the illegal constructions had put the entire city in danger, causing landslides, and ordered the demolition of such constructions.
"You just demolish it (unauthorised constructions). What is going on? You are admitting that you were supposed to make only two-storeyed building. There was landslide in your premises and you did nothing. You are putting the life of people to danger. For what? Money," the bench observed while hearing the plea filed by one of the hotels.
Owners of several hotels, resorts and guest houses in Kasauli had approached the apex court challenging the National Green Tribunal (NGT) order to demolish or close down several such establishments which were extended illegally without approvals.
The NGT, in its order, had directed demolition of temporary structures of several hotels including Bird's View Resort, Hotel Pine View, Narayani Guest House, Hotel Neelgiri, Hotel Divshikha and AAA Guest House.