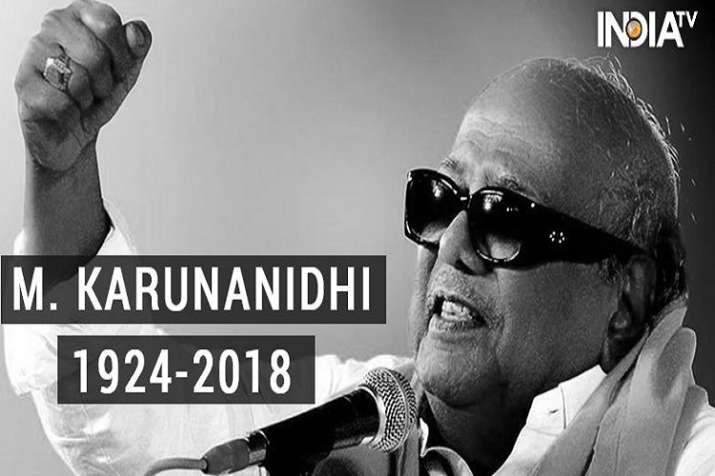 Till the last he wrote his own script - The statement fits perfectly for Muthuvel Karunanidhi, the former CM of Tamil Nadu and chief of Dravida Munnetra Kazhagam (DMK) who breathed his last on Tuesday, August 7, after fighting a prolonged illness.
Karunanidhi or Kalaignar, as he was famously known among his supporters, had not been in the best of his health since last few years. However, the veteran leader chose to remain at his Gopalapuram house in Chennai than to spend his days lying on a hospital bed. Karunanidhi was admitted to a hospital on July 28 after his health deteriorated.
Born on June 3 1924, in a tiny hamlet called Tirukuvalai, Karunanidhi began his political career when he was just 14. A writer par excellence, Karunanidhi began penning scripts as a 20-year old for plays which became a vehicle for propagating principles of the Dravidian movement. He was trained in music. He went on to write screenplays and dialogues for over 50 movies. Age never affected Karunanidhi's passion for writing scripts as he wrote his last at the age of 90 for a television serial.
In his political career spanning over 50 years, Karunanidhi witnessed the rule of several leaders at the Centre while he continued to strengthen his base in Tamil Nadu. In 1969, when Karunanidhi took oath as the CM of Tamil Nadu for the first time, Indira Gandhi was the PM.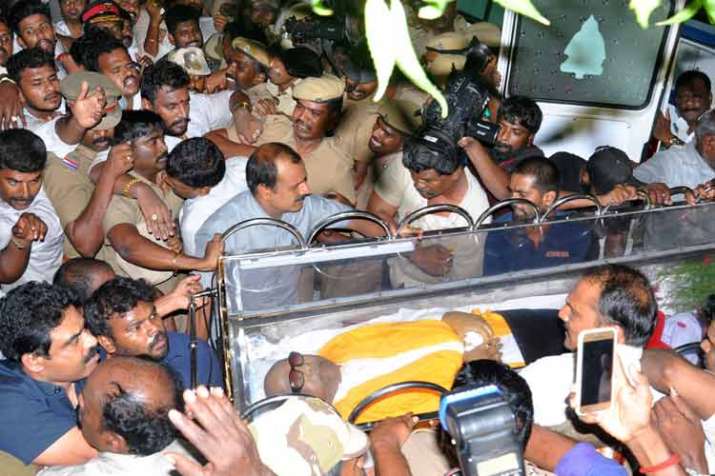 Karunanidhi used all his political skills to deal with Indira Gandhi. He backed her during the election of VV Giri as the President and later used the alliance with the Congress and other smaller regional parties to become the CM again. But the relationship between the two leaders soured soon after.
A year after Indira Gandhi declared Emergency in 1975, the then PM dismissed Karunanidhi government in 1976 on charges of corruption. 
Karunanidhi had to face the Centre's wrath again in 1991 when his government was dismissed by on the pretext of  degrading law and order situation in the state following Rajiv Gandhi's assassination.
Karunanidhi's DMK swept the Assembly elections in 1996 but lost the 2001 election to Jayalalithaa's AIADMK. Karunanidhi wrested power back from Jayalalithaa in 2006 He completed the full five-year term but the DMK could not repeat the success during 2011 Assembly polls.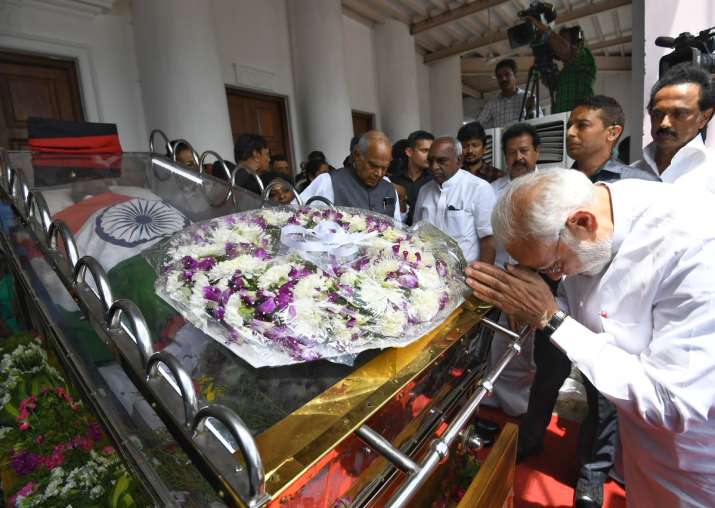 From 1980s to 2011, Karunanidhi saw the Prime Minister's chair being shared by the likes of Rajiv Gandhi, PV Narasimha Rao, HD Deve Gowda, IK Gujral, Atal Bihari Vajpayee and Dr. Manmohan Singh.
In November 2017, PM Modi made an unscheduled visit to Karunanidhi's house in Chennai to meet the veteran leader. PM Modi's sudden meeting with Karunanidhi sparked all kinds of talks. 
The timing of PM Modi's visit to Karunanidhi's house was interesting. The meeting came just a day before a crucial hearing in the 2G Spectrum allocation case in which DMK A Raja and  Kanimozhi were then named. If reports are to be believed, the BJP has been hoping to get DMK's support during the 2019 Lok Sabha elections.
WATCH: The unheard story of Karunanidhi