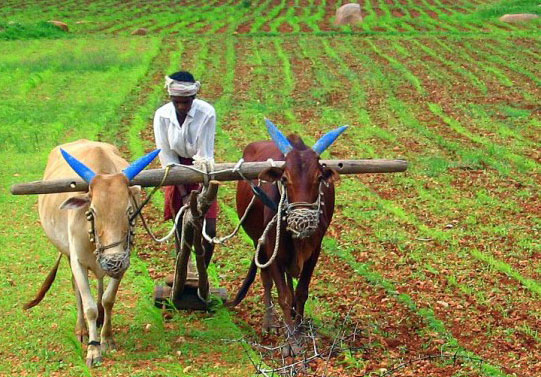 The Karnataka government on Wednesday announced a crop loan waiver of up to Rs 50,000 per farmer that will cost Rs 8,165 crore to the state exchequer.
The move announced in the state Assembly will help about 22,27,506 farmers who have obtained loans from cooperative banks.
"Farmers are in distress. They have been demanding loan waiver. We have to respond to farmers, even though it will have an impact on state's finances," Chief Minister Siddaramaiah said.
He said in the interest of agriculture sector, the government has decided to come to the rescue of 22,27,506 farmers and waived their crop loan or short-term loans from cooperative banks, outstanding till Tuesday, by Rs 50,000 for each farmer.
A total of 22,27,506 farmers have obtained loans of about Rs 10,736 crore from cooperative banks in the state.
Siddaramaiah also said the Centre will now have to come to the rescue of farmers by waiving the loan obtained by them from nationalised and rural banks.
He said the crop loan obtained by farmers from cooperative banks amounts to just 20 per cent, while 80 per cent is from Grameen (rural), nationalised and others banks that come under the ambit of the central government.
The move comes amid the Siddaramaiah-led Congress government facing immense pressure to dole out loan waivers to farmers after Uttar Pradesh, Maharashtra and Punjab made similar announcements.
Earlier this month, Punjab Chief Minister Captain Amarinder Singh announced crop loan waiver of up to Rs 2 lakh for farmers who own less than five acre of agricultural land and a flat relief of Rs 2 lakh for all other marginal farmers, irrespective of the loan amount.
On June 11, Maharashtra Chief Minister Devendra Fadnavis  announced farm loan waiver which would require his government to raise Rs 25,000 crore or more.
Similarly, in April, the Yogi Adityanath-led Uttar Pradesh government waived farm loan worth Rs 36,000 crore – one of the biggest poll promises of BJP. The loan waiver will benefit around 86 lakh small and marginal farmers in the state.
Finance Minister Arun Jaitley, however, has said that the burden of the crop loan waiver rests with states as the Centre is focused on restraining the fiscal deficit. Speaking to reporters on Tuesday, Jaitley ruled out a farm loan waiver by the Centre despite some states having gone ahead with such a decision to placate the protesting farmers.
"There is no such proposal. We have got an FRBM Act and a fiscal deficit target, and we intend adhering to it," Jaitley told reporters, when asked if the Centre too would come up with farm debt waiver schemes.