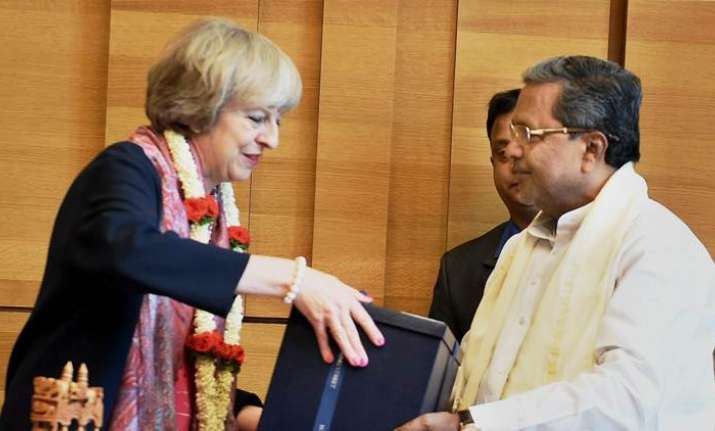 Karnataka Chief Minister Siddaramaiah today met British Prime Minister Theresa May to put forth a request to review the new immigration policy and relax visa rules for Indian techies and students pursuing higher studies in her country.
"I request you to review the new policy and restore the 20,800 pound salary threshold under the intra-company transfer, as the movement of skilled technology workers should be seen as a trade priority than an immigration issue," Siddaramaiah told May at a bilateral meeting. 
As per the visa rules, which were recently announced by the British Home Office, skilled IT workers applying for visa under the tier-2 intra-company transfer (ICT) category would be required to meet 30,000 pound salary threshold after November 24.
Noting that temporary placement of skilled people in Britain provided a major economic boost, with negligible impact on net migration, Siddaramaiah said the vibrant IT industry in the state relied upon an effective immigration policy in Britain without barriers.
Siddaramaiah also prevailed upon May to grant time-bound visas for Indian software engineers to work on projects in Britain and return to India.
"Our IT professionals and software engineers are not looking for immigration visas but for projects, which are global operationally," said state Industries Minister R.V. Deshpande on the occasion.
Siddaramaiah also told May that 15 per cent of British firms in India were located in Karnataka employing 23,000 people.
The British firms are in ICT (Information & Communication Technology), aerospace, health and life science sectors in the state capitalising on the bright talent
The Chief Minister also sought investments from British firms in renewable energy and in developing smart cities in the state.
Karnataka has skilled workforce, technical expertise and an industrial ecosystem for aerospace, automobiles, IT, biotech, pharma and life sciences.
The state has recently signed an agreement to set up a 400-acre British Health City at Dharwad in the state's northwest region.
Several Karnataka-based firms, including Infosys, Wipro, TCS, Dynamatic Technologies, Biocon and Microlabs expand their operations and generate hundreds of jobs in Britain.
May also visited the state-run Stonehill primary school at Papanahalli on the city's northern outskirts and interacted with its girls and boys and teachers.
After visiting Dynamatic Technologies Ltd at the Peenya industrial state in the northwest suburb and inspecting its aerospace facility in the afternoon, May drove into the city for other engagements, including a visit to the ancient Someshwara temple in the eastern suburb for the blessing of Hindu deity Shiva.
The 15th century temple is one of the oldest in the southern state, dating back to the Chola period.
Elaborate arrangements have been made to ensure the safety and security of the visiting dignitary and her accompanying official delegation.
On way back to the airport, May will hold an hour-long interactive session with chief executives of India Inc at a start hotel in the city.
A delegation of Small and Medium Enterprises (SME) will call on her at the venue.
May is the fourth British Premier to visit Bengaluru after her (Conservative) Party's then leader John Major on January 9, 1997, Labour Party's leader Tony Blair on January 4, 2002 and David Cameron on July 28, 2010.
"Vehicular traffic has been restricted and regulated on the routes May's motorcade will take to the venue where her engagements are scheduled and to avoid grid lock on the main roads," said a police official.
May, 60, is in the tech hub as part of her three-day maiden official visit that started on Sunday. 
India is the first country outside the European Union that May visited after she assumed office in July post-Brexit in June.
State IT Minister Priyank Kharge received May and her official delegation on arrival at the international airport from New Delhi.
(With IANS inputs)