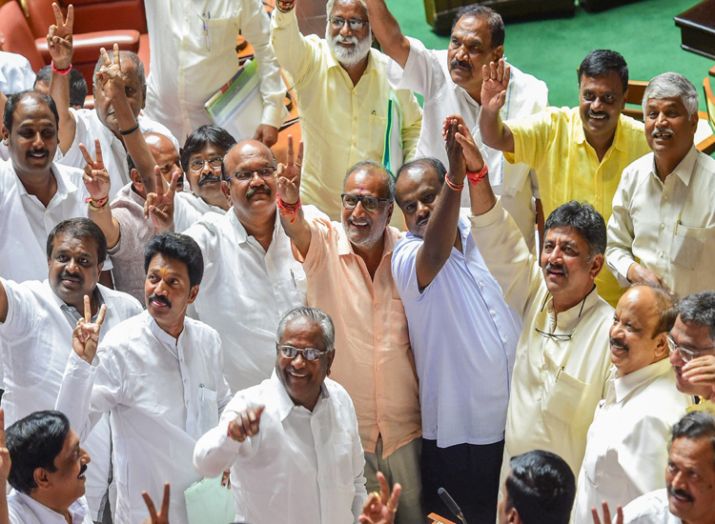 Chief Minister HD Kumaraswamy held his first cabinet expansion on Wednesday, a fortnight after he was sworn in as chief minister. Kumaraswamy inducted 25 ministers in his team. While14 ministers are from the Congress, 9 from its ruling coalition partner JD(S) and one each from the BSP and the KPJP. 
Congress' DK Shivakumar, KJ George,  NH Shivashankar Reddy and JD(S) MLAs HD Revanna and GT Devegowda were among others who took oath as ministers.
Also read | Karnataka Cabinet to be expanded on June 6: Here is the list of portfolios
Highlights of Karnataka Cabinet expansion: 
Leaders who took oath as ministers: 
JD(S): HD Revanna, Bandappa Kashampur, GT Devegowda, DC Thamanna, SR Srinivas, CS Puttaraju  SR Mahesh, 
Congress: DK Shivakumar,  RV Deshpande, KJ George, Krishna Byregowda, NH Shivashankar Reddy, Ramesh Jharkiholi, Priyank Kharge, UT Abdul Khader, BZ Zameer Ahmed Khan, Jaimala Ramachandra (only woman MLA to be included in state cabinet)
BSP: N Mahesh
Independent: R Shankar
02:35 pm: Congress's DK Shivakumar takes oath as minister.
Bengaluru: Congress' DK Shivakumar takes oath as minister in the #Karnataka Cabinet pic.twitter.com/fxGsZRJvmD

— ANI (@ANI) June 6, 2018
08:27 am: In last minutes changes, Dinesh Gundu Rao may not get ministry as he may be made KPCC President: Sources
08:26 am: Congress leaders are still in discussion with Rahul Gandhi in Delhi, Congress concrete list of minister will emerge only at around 11 AM: Sources
08:20 am: Instead of Ramalinga Reddy, Congress is thinking to replace him with Shivshankar Reddy, Actress and MLC Dr Jayamala to become Minister today: Congress Sources
08:10 am: Cabinet Expansion Today at 2.12 pm
#List of probable ministers: JD(S)
1. HD Revanna
2.GT Devegowda
3. CS Puttaraju
4. V Nadaguda
5. HK Kumaraswamy
6. MC Managuli
7. SR Srinivas or B Satyanarayana 
8. Bandeppa Kashempur
and 
9. N Mahesh ( BSP). 
HDD share in the cabinet is 12 including CM, remaining quota will be filled later.
#Congress probables:
1.DK Shivakumar 
2.KJ George 
3.MB Patil
4.S Shivashankarappa
5. Roshan Baig
6.Krishna Byregowda 
7.Priyank Kharge
8.Satish Jarkhiholi
9.Rajashekhar Patil
10.Roopa Sashidhar
11. RV Deshpande
12. Ramalinga Reddy
13.Dinesh Gundu Rao
14. UT Khadar 
15. Ajay Singh
These names are almost certain. Out of quota of 22 cabinet birth (including DyCM) the Congres is thinking to fill 15 or 16 births in today's expansion: Sources
08:00 am: PTI reported that Congress chief Rahul Gandhi held long deliberations with former chief minister Siddharamaiah, deputy chief minister G Parameswara and senior party leaders DK Shivakumar and Dinesh Gundu Rao, along with AICC general secretary in-charge of Karnataka affairs KC Venugopal before finalising the list of new ministers from his party. Though there was no official word from the Congress, Gandhi is learnt to have given his nod to the list of around 12 ministers which includes Shivakumar who is likely to get an important portfolio. Gandhi met the Karnataka leaders for over an hour and gave final shape to the list of ministers, while according equitable representation to all sections and regions. 
07:50 am: Sources said some portfolios may remain vacant on both sides to douse any discord in the two parties. 
07:30 am: The lone BSP legislator in Karnataka, N Mahesh, will be a part of the cabinet expansion and will be given a key portfolio. JD(S) secretary general Danish Ali told PTI, "We will give due importance to our pre-poll ally, the BSP by giving its lone MLA a ministerial berth." He also disclosed that BSP supremo Mayawati has deputed its senior leader Satish Chandra Misra to attend the cabinet expansion function tomorrow. This is the first time that the BSP will be a part of the government outside of Uttar Pradesh. Danish Ali was the key pointsman in negotiating an alliance with both the BSP and then the Congress.
(With inputs from PTI)