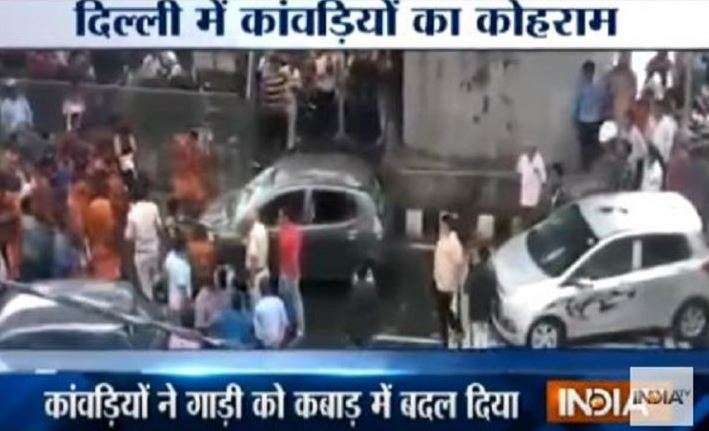 After a group of Kanwariyas vandalised a car in west Delhi, the Delhi Police on Wednesday registered a case against unidentified persons.
Kanwariyas were vexed after the driver allegedly hit one of them. The incident took place on Tuesday near Moti Nagar metro station. 
According to police, reported news agency PTI, the car was being driven by a woman, who was with a male friend, when it allegedly hit a Kanwariya.
A heated argument took place and as per reports one of Kanwariyas was slapped by the male occupant of the car. 
Following this, the Kanwariyas damaged the vehicle with sticks, Deputy Commissioner of Police (west) Vijay Kumar said, reported the news agency.
On getting the information, cops rushed to the spot. However, neither the Kanwariyas nor the occupants of the car were present at the scene. The couple fled the scene fearing for their lives. 
A CCTV camera installed at a nearby shop captured the entire incident.
Based on enquiries conducted by the police and available footage, a case has been registered. Video also went viral on WhatsApp and Facebook. 
WATCH VIDEO: Aaj Ki Baat with Rajat Sharma | August 8, 2018