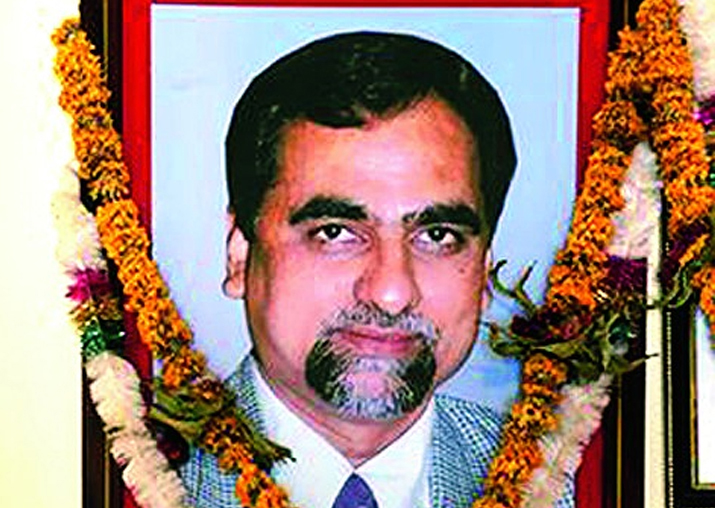 The Supreme Court on Thursday rejected a batch of pleas seeking an independent probe into the alleged mysterious death of special CBI judge B H Loya, who was hearing the high-profile Sohrabuddin Sheikh fake encounter case. 
The top court said that there was no merit in the petitions, adding that there was no reason to doubt the statements of the sitting judges. 
The court further observed that Judge Loya died a natural death, and said that the petitioners attempted to malign the image of the judiciary.
Loya had allegedly died of cardiac arrest in Nagpur on December 1, 2014 when he had gone to attend the wedding of a colleague's daughter. 
A bench comprising Chief Justice Dipak Misra and Justices A M Khanwilkar and D Y Chandrachud had on March 16 reserved the judgement on the pleas. 
Here are the LIVE updates: 
12:22 pm: The investigation was done professionally by Nagpur Police and those documents and evidence have been presented in the SC, the decision is based on that. The petitions were wrong as they unaware of the truth: Shivaji Bodkhe, Joint CP Nagpur
12:21 pm: 
The verdict in #JudgeLoya case has exposed the Congress once again. Rahul Gandhi should apologise to the people of the country. They have tried to create such an environment that develops negative emotions. in people for the govt. Welcome the decision of SC: UP CM Yogi Adityanath pic.twitter.com/rivzUZnLWZ

— ANI UP (@ANINewsUP) April 19, 2018
12:19 pm: The people who have been politicising the judiciary for their own motives, now stand exposed: Sambit Patra
12:13 pm: The PIL was filed with a 'political motive', the level of politics has stooped to the lowest: BJP
12:12 pm : Rahul Gandhi should apologise for maligning image of judiciary: BJP
12:08 pm: The court has observed that the death of Judge Loya was natural: BJP spokesperson Sambit Patra
11:54 am: 
These petitioners did not uphold the rule of law. Main aim was to attack some senior functionaries of the current government. There was no question of foul play. Petition had personal interest, not public interest: Mukul Rohatgi, Former AG on SC's verdict on #JudgeLoya Death case pic.twitter.com/VUB7IMWCoJ

— ANI (@ANI) April 19, 2018
11:43 am: SC says it thought of initiating contempt proceedings against petitioners but decided not to go ahead with it. 
11:22 am: These PILs (public interest litigations) are scandalous and amount to criminal contempt, the top court observed.
11:04 am: The top court also said that Judge Loya's death was completely natural, according to India TV sources.
11:03 am: There is no merit in the petitions & there is no reason to doubt the statements of sitting Judges, attempt of the petitioners was to malign the judiciary, said SC
11:02 am: Supreme Court dismisses please seeking independent probe into the death case of Judge B H Loya. 
The Maharashtra government had argued in the apex court that all pleas seeking an independent probe into Loya's death were motivated and aimed at targeting "one individual" in the guise of upholding the rule of law. 
It had come down heavily on alleged accusations, bullying and browbeating of judges in the top court by some activist lawyers in the Loya case and said that the judiciary and judicial officers need to be saved from such averments. 
Meanwhile, those seeking an independent probe into the matter had referred to the sequence of events to highlight that a fair investigation was needed to rule out any foul play in the death. 
The issue of Loya's death had come under spotlight in November last year after media reports quoting his sister had fuelled suspicion about the circumstances surrounding it and its link to the Sohrabuddin case. But Loya's son had on January 14 said in Mumbai that his father had died of natural causes. 
In the Sohrabuddin Sheikh fake encounter case, BJP President Amit Shah along with Rajasthan Home Minister Gulabchand Kataria, Rajasthan-based businessman Vimal Patni, former Gujarat police chief P C Pande, Additional Director General of Police Geeta Johri and Gujarat police officers Abhay Chudasama and N K Amin have already been discharged. 
Several accused, including police personnel, are currently facing trial for their involvement in the alleged fake encounter of Sohrabuddin Shaikh, his wife Kausar Bi and their associate Tulsiram Prajapati in Gujarat in November 2005. The case was later transferred to CBI and the trial shifted to Mumbai. 
A batch of pleas, including those filed by Congress leader Tehseen Poonawala and Maharashtra-based B S Lone, was filed in the top court seeking an independent probe into Loya's death in 2014. 
Four senior-most apex court judges -- Justices J Chelameswar, Ranjan Gogoi, M B Lokur and Kurian Joseph -- at their January 12 press conference had questioned the manner in which sensitive cases were being allocated and Loya's case was one of them.
(With PTI inputs)