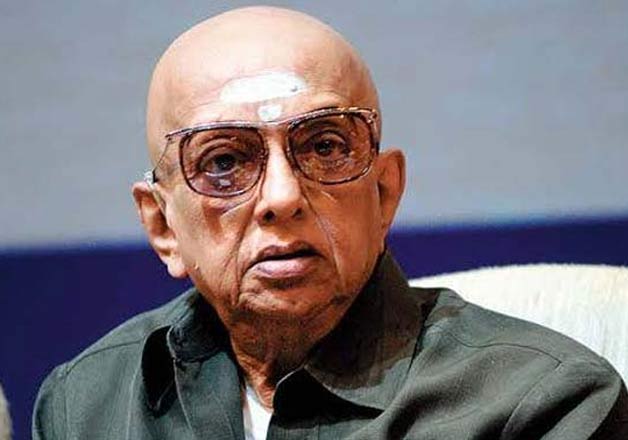 Journalist, political analyst and comedian Cho S Ramaswamy died on Wednesday at Apollo Hospital in Chennai. He was 82.
A former BJP Rajya Sabha member Ramaswamy was ailing for some time and was in the hospital where he breathed his last at around 4 a.m.
The body has been shifted to his residence here.
Ramaswamy founded and edited the political magazine Thuglak magazine and was fearless in criticising the ruling government in the state or at the centre.
Ramaswamy had personal rapport with many politicians in the country.
Late Tamil Nadu Chief Minister and AIADMK General Secretary J. Jayalalithaa was a good friend of Ramaswamy and used to seek his views.
Prime Minister Narendra Modi and Jayalalithaa called on him when he was seriously ill early this year.
PM Modi condoled his death and described him as a multidimensional personality, towering intellectual, great nationalist & fearless voice who was respected & admired.
Cho Ramaswamy was insightful, frank & brilliant. Pained by his demise. Condolences to his family & countless readers of Thuglak.

— Narendra Modi (@narendramodi) December 7, 2016
A multi-faceted personality Ramaswamy a law graduate, was also a play writer and a stage actor. He has also directed several movies and was also a screen play writer.
Ramaswamy has acted in movies along with M. G. Ramachandran, Sivaji Ganesan, Jayalalithaa, Kamal Hassan, Rajinikant and others.
He was a member of the B. R. C. cricket club which played in the II division of Madras Cricket Association (now Tamil Nadu Cricket Association) in the 1950's.
Ramaswamy also practised law in the Madras High Court, 1957-63.
He was a legal adviser to T. T. K. & Co., group Companies, till 1978.
He has written, directed and acted in over 20 Tamil plays which were performed over 5,000 times, acted in 180 movies scripted 14 movies, directed four films.
On the small screen Ramaswamy has written, acted and directed several serials in Tamil and has also written novels.
IANS inputs