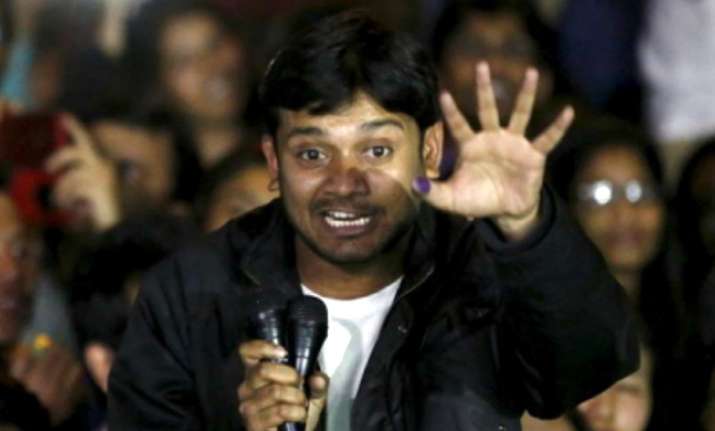 New Delhi: JNUSU president Kanhaiya Kumar, who is facing sedition charges, has urged the authorities not to take action against the man who slapped him yesterday at the university campus.
The JNUSU president said that he since his attacker is also a student, he has full 'right to express and no action should be taken against him for his violent act'.
Kanhaiya was yesterday evening attacked by an outsider on the university campus. As per the reports, the attacker was not from the university but came from outside. He has been identified as Vikas Chaudhary and he hails from Ghaziabad.
According to students and teachers present there, the attacker called Kanhaiya for an interaction when he was attending the "nationalism" lecture at the varsity's administration block.
"Kanhaiya went to a corner to talk to him where the boy started abusing him and following the argument he slapped him. Seeing this, many students and university's security guards rushed to rescue him," a student said.
The varsity's security got into action and took the accused to the nearest police station where he has been detained for questioning, a police official said, adding his identity is yet to be verified.
The attacker said he wanted to teach Kanhaiya 'a lesson' for his comments. This is the third alleged attack on Kanhaiya who waded into controversy after he was arrested by the Delhi Police for his alleged involvement in a February 9 event on the varsity campus that commemorated parliament attack convict Afzal Guru's hanging. The event saw some anti-national slogans being raised.
Kanhaiya was attacked earlier by lawyers outside the Patiala House court complex while the police was bringing him inside the court premises. The same set of lawyers attacked him again at the same venue a day later.
The students and teachers of the varsity had expressed apprehension about Kanhaiya's security after he was attacked by a group of lawyers in Patiala Court premises on February  17.
Kanhaiay walked out of Tihar Jail after serving a 14-day judicial custody. He was granted interim bail for six months by the Delhi High Court last week after spending 18 days in jail. He was granted the bail on the condition that he will not indulge in any anti-national activities.
On his return to campus, Kanhaiaya addressed a huge gathering of students and launched a no holds barred attack on the government and the Prime Minister. He has also vowed to lead the students' agitation in demand for the release of Umar Khalid and Anirban Bhattacharya – the two students who are in judicial custody on charges of sedition for the same event.  
All accused have denied their involvement in any anti-India slogans.
(With PTI inputs)