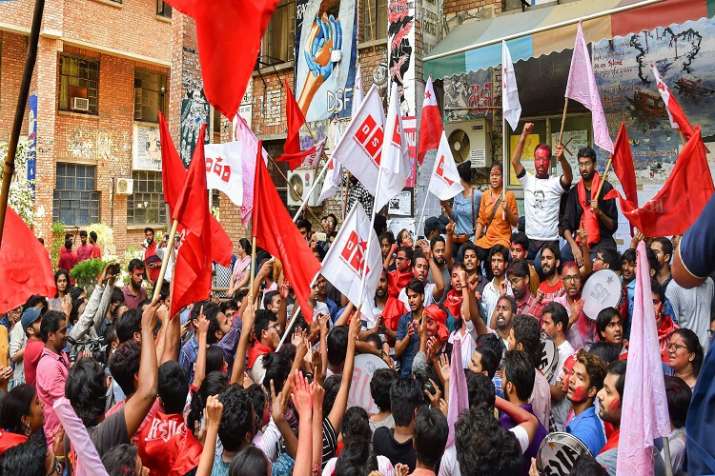 A day after the announcement of the Student's Union Election results, major clashes were reported from the prestigious Jawaharlal Nehru University in Delhi on Monday. According to latest reports, six Akhil Bharatiya Vidyarthi Parishad (ABVP) leaders have been injured in the clashes and have been admitted to AIIMS. 
Meanwhile, political blame game erupted as the leaders of the ABVP and the United Left accused each other of instigating violence. The members of the ABVP said that more than 300 people attacked them in the university campus on Monday."The targetted violent attacks by Left on ABVP students is a clear sign of an evil design unfolding in the campus. AISA-SFI and their allies have decided to turn things ugly in the JNU campus. Left wants turmoil in the campus", ABVP said in a statement. 
On the other hand, new president of the JNUSU, N Sai Balaji said that he was attacked by ABVP members and was even stopped by them on his way to police station to report violence. 
He said members of the ABVP were roughing up an All India Students' Association (AISA) member and when "I and a couple of others intervened, we were assaulted".
The ABVP and the AISA have both filed complaints at the Vasant Kunj police station.
Deputy Commissioner of Police (Southwest) Devender Arya said the situation is under control.
"The PCR got calls about a scuffle between students in JNU around 3 am. Subsequently, we had a discussion with university authorities, students and professors. 
"Complaints have been received in Vasant Kunj (North) police station. Legal action is being taken on merit. The situation is under control and normal. Police arrangements are in place," he said.
Balaji claimed that the ABVP members even attacked them when a Police Control Room (PCR) vehicle was taking them away from the Jawaharlal Nehru University (JNU) campus.
Earlier on Sunday, The United Left Alliance—comprising Left-leaning All India Students' Association (AISA), Democratic Students Federation (DSF), Student Federation of India (SFI) and All India Students Federation (AISF)—on Sunday swept the Jawaharlal Nehru University Student Union elections with candidates from the coalition winning all central panel posts.
The elections was marred by continuous clashes between the Left Alliance and the ABVP members. Earlier on Saturday, the counting of votes was suspended for nearly 14 hours by election authorities citing "forcible entry" and "attempts to snatch away ballot boxes" at the counting venue, after the ABVP staged protests claiming it was not informed about the start of the process. The ABVP also accused the election authorities of bias towards the Left outfits and threatening to move court.
WATCH VIDEO: