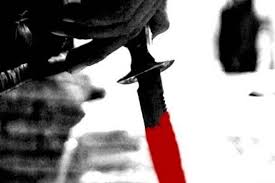 A 22-year-old jilted lover stabbed to death a woman and also injured her mother when she tried to protect her daughter in their house here, police said Monday.
Shakil Khan entered the house of Mohammad Shahid where his wife Akhtar Bano (45) and daughter Khushnasiba Bano (21) were present Sunday evening, they said. 
He stabbed Khushnasiba and when her mother tried to protect her, he stabbed Akhtar also, the police said.
Khushnasiba succumbed to her injuries at the SMS hospital here, while her mother is undergoing treated and stated to be out of danger now, police said. 
"Shakil and Khushnasiba were known to each other for some time. Shakil wanted to marry Khushnasiba but she had denied and therefore he was annoyed with her," Station House Officer of the Galta gate police station, Dharmraj Chaudhary said on Monday.
After the incident, the accused escaped but he was caught Sunday night and was placed under arrest, the police said.