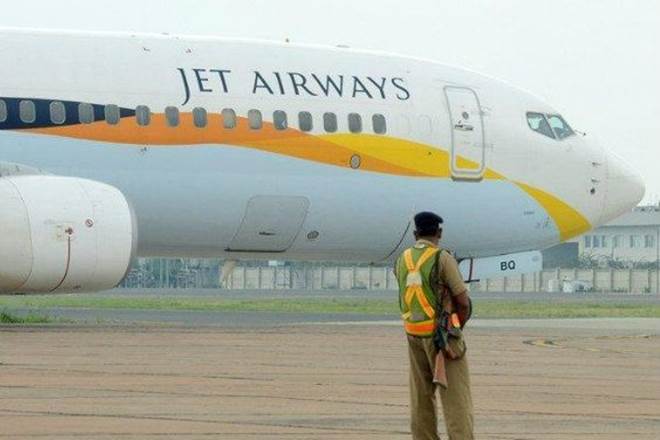 It will be a crucial day for the cash-strapped Jet Airways on Monday when a meeting of the SBI-led lenders' consortium with the airline's management would take place. At least 1,100 pilots belonging to crisis-hit Jet Airways' pilots body National Aviator's Guild (NAG) had decided not to fly from 10 am on Monday in protest against "non-payment of salary dues. However, the decision was later deferred to be taken after the meeting. The pilots along with engineers and senior management have not received salaries since January. The debt-ridden carrier has also not paid March salary to employees of other categories as well. Jet Airways is at present under the management control of SBI-led consortium of lenders after the approval of a debt-rejig plan last month, which also led its founder chairman Naresh Goyal to quit.
What is the Jet Airways crisis about?
Saddled with more than Rs 8,000 crore of debt, Jet is struggling even to pay salaries as it defaulted on payments to banks and aircraft lessors some of whom have reportedly begun to terminate lease deals. The aviation sector employs close to 10 lakh people. 
The Finance Ministry has been in touch with banks led by State Bank of India (SBI) on Jet's financial health . If banks agree to government proposals, then state-run banks including SBI and Punjab National Bank (PNB) as well as NIIF would together may own at least a third of the airline until they find a new buyer. Currently, Abu Dhabi's Etihad Airways is Jet's largest shareholder with a 24 per cent stake. 
Jet Airways crisis: Here's a look at how the events unfolded
April 14: The pilots' union of Jet Airways has deferred its decision of "no pay no work" from Monday, citing the meeting of the SBI-led lenders' consortium with the airline's management on the same day. According to a member of the National Aviators' Guild (NAG), the pilots would wait for the outcome of Monday's meeting. It is expected that the airline management will present a fresh fund infusion plan to the lenders. The union has urged its members to assemble at the Siroya Centre here at 10 a.m. Monday.
April 14: Rajshree Pathy, an Independent Director of the crisis-hit Jet Airways' has resigned from the post. Pathy resigned with effect from April 13, according to a regulatory filing by the airline.
April 14: Jet Airways said it has extended the cancellation of its west-bound flights -- to and from Amsterdam, London and Paris -- until April 16.
April 13: The employees of Jet Airways took out a silent protest march demanding the payment of their dues outside the IGI airport's Terminal 3. The Jet employees organised the "Save Jet Airways Human Chain" and took out a peaceful, silent march outside Terminal 3 of the Indira Gandhi International (IGI) airport. 
April 12: Annoyed over non-payment of their salaries, the employees association of Jet Airways asked the Mumbai Police to register a case against its founder and former Chairman Naresh Goyal, CEO Vinay Dube and SBI Chairman Rajnish Kumar.
April 12: The Prime Minister's Office (PMO) stepped in to assess Jet Airways's financial situation as the cash-strapped airline suspended its international operations till the weekend after further reduction in its fleet size. Director General of Civil Aviation (DGCA) and Civil Aviation Secretary Pradeep Singh Kharola met PMO officials towards the evening to update them about the situation of the airline.
April 12: Jet Airways on Friday suspended all international operations till the weekend.
April 11:  With its fleet size further shrinking to 14 aircraft, Jet Airways suspended long-haul West-bound flight departures for one night and invited government scrutiny over the airline's regulatory compliance. The development came after the once premier airline was left with only 14 aircraft from around 120 last year, triggering speculations over its survival as a lengthy stake sale process continued.
April 11: Naresh Goyal, founder of the Jet Airways, pledged 26.01 per cent stake in Jet as security for loans from the Punjab National Bank (PNB).
April 10: The country's largest oil marketing company (OMC) Indian Oil Corporation (IOC) stopped fuel supply to Jet Airways, however it later resumed it too. But woes were far from over for Jet Airways. A Europe-based cargo firm Worldwide Flight Services seized Jet's 777-300 ER at Schiphol Airport over outstanding dues on account of handling charges. The aircraft was supposed to operate the Amsterdam-Mumbai flight.
April 9: Lessors to the airline approached India's civil aviation regulator to de-register 18 aircraft owing to unpaid dues.
April 8: Lenders of the Jet Airways invited "Expression of Interest" for stake sale in the airline to recover their dues. The document issued by the State Bank of India (SBI), lead lender in the consortium, offered a stake from 31.2 per cent to 75 per cent of the company on a fully diluted basis.
March 31: The pilots' union of Jet Airways on Sunday postponed, till April 15, their decision to go on mass leave to protest non-payment of salaries.
March 26: Jet Airways' informed the Civil Aviation Ministry that it would fly 40 more aircraft by April end and also assured that it would not ground any more aircraft.
March 26: Crucial meeting on Jet Airways took place at the Civil Aviation Ministry attended by representatives of the SBI, Jet, DGCA and the Ministry. State Bank of India Chairman Rajnish Singh, Jet Airways CEO Vinay Dubey, Directorate General of Civil Aviation (DGCA) chief B.S. Bhullar and Civil Aviation Secretary Pradeep Singh Kharola attended the meeting.
March 25: Jet Airways promoter and founder Naresh Goyal on Monday resigned from the company's board. With their resignations from the board, lenders led by SBI took over the management.
March 25: The Jet Airways Board met in Mumbai to decide on ways to procure interim funding and on the future role with the financially troubled airline of its promoter and founder Naresh Goyal.
March 22: Jet Airways suspended 12 international flights even as it grappled with a reduced fleet strength.  It said it suspended operations to Hong Kong, Abu Dhabi, Riyadh, Dammam, Singapore, Manchester and Dhaka, among others, till April 30.
March 20: Around 260 of its pilots applied to join SpiceJet, even as investors like public sector banks struggled to stitch a rescue plan for the airline.
March 19: The Directorate General of Civil Aviation (DGCA) held an emergency meeting with Jet Airways to discuss ways to resolve its debt crisis, which has caused financial stress to its employees as well as problems like fleet depletion and flight cancellations.
March 19:  Jet Airways pilots' union had threatened to refrain from operating flights if they are not given complete clarity on the company's resolution plan and future by March 31.
March 15: The financially-troubled Jet Airways pilots' union wrote to the government, seeking its help in recovering their pending salaries along with the accumulated interest. Jet Airways currently has 1,900 pilots on its rolls. In a letter written to Minister of Labour and Employment Santosh Gangwar, the National Aviators Guild (NAG), which represents the majority of Jet's pilots, said that all pleas to the Jet management in this regard "have fallen on deaf ears".
The airline has defaulted on loans and has delayed payments to its pilots, suppliers and lessors for months. It is in talks with public sector banks for a rescue deal and emergency funds. The controversy around the airline crisis sprung up even higher in the month of March this year.