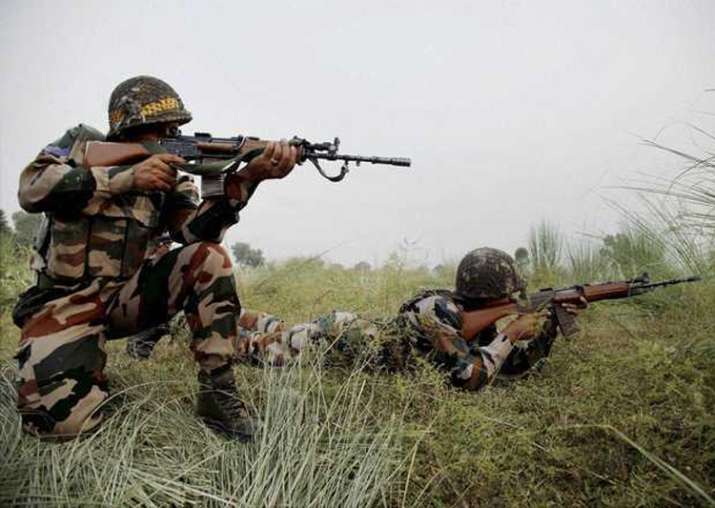 Two militants, belonging to the Hizbul Mujahideen outfit, were on Thursday morning gunned down by the security forces in Jammu and Kashmir's Kulgam district, police said. 
"Two militants were killed in an encounter with security forces in Gopalpora area of Kulgam this morning," a police official said. 
He said one of the slain militants was involved in an attack on a bank cash van in the district on May 1 this year in which five policemen and two bank guards were killed.
"One of the slain militants was involved in the murder of five policemen and two bank guards in Pombai village in Kulgam district on May 1," the official said. 
The security forces have recovered two weapons from the site of the encounter, the official said, adding further details are awaited.
Meanwhile, in another incident, an Army Major and a jawan were martyred in an encounter between the security forces and militants at the Imam Sahab area of south Kashmir's Shopian district.
Suspecting presence of terrorists in Matribugh Zoipora village of Shopian district, a cordon-and-search operation was launched by a joint party of 62RR of Army, Special Operations Group of Jammu and Kashmir police and Central Reserve Police Force.
At least two to three militants, who were believed to have been trapped in the area, opened fire after the security forces approached the site. 
The encounter concluded after the terrorists managed to flee away from the site.
In a major breakthrough on Tuesday, the security forces killed Lashkar-e-Taiba (LeT) divisional commander Abu Dujana along with his accomplice Arif Nabi Dar in an encounter at Harkipora village in Jammu and Kashmir's Pulwama district. 
Following this, the separatists had called for 'bandh' to protest the killing of two Lashkar-e-Taiba (LeT) terrorists and a civilian, who was killed in protest that erupted following the encounter.