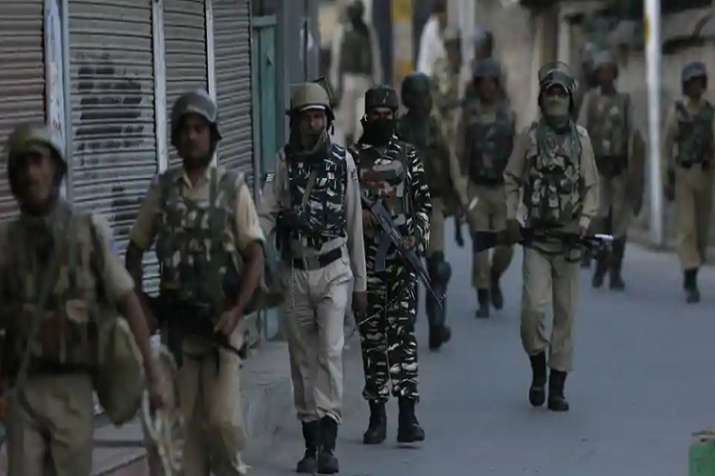 At least 12 people were injured as clashes broke out between protesters and security forces in Kashmir following false rumours regarding scrapping of Article 35A. Several parts of Kashmir observed shut down following the clashes.
People took to streets in many parts of the valley following a media report that the apex court will hear the petition challenging the validity of Article 35-A on Monday.
The protests turned violent at some places as people indulged in stone-pelting on security forces posted on law and order duties, officials said.
The security forces resorted to baton charging and fired tear smoke shells to chase away the protestors, they said, adding that pellet guns were used at some places to restore order.
The areas where protests took place included many parts of the city, Anantnag, Pulwama, Shopian, Budgam, Sopore and Ganderbal, the officials said.
The spontaneous shutdown was observed at many places in the valley as rumours about scrapping of Article 35-A started doing rounds on social media.
Spontaneous shutdown was observed in many places in the Valley, including Srinagar, the summer capital of Jammu and Kashmir," a police official said.
He said while the shops and other business establishments had opened this morning, the shutters were downed after the rumours, he said.
The official said announcements were made on loudspeakers that Article 35-A has been scrapped and people were asked to observe a strike and come out on streets.
Meanwhile, police, in a statement, requested people to maintain calm and not pay heed to rumours.
"Some sections of media circulated news regarding article 35-A. The news is refuted as baseless. People are requested to maintain calm and not to pay heed to rumours. The main hearing is on 31st of August," the statement said.
Moderate Hurriyat Conference chairman Mirwaiz Umar Farooq said the "spontaneous and sharp reaction" of the people of Kashmir to a rumour about Article 35-A of the Constitution should be an "eye-opener" for the government that no "tampering" would be tolerated with the constitutional provision.
Article 35-A, which grants special rights and privileges to the people of Jammu and Kashmir, is currently facing a legal challenge in the Supreme Court. Earlier in the day, the apex court postponed the hearing on a fresh petition filed by BJP leader and lawyer Ashwini Upadhyay against Article 35A. The next date of hearing is August 31 when the apex court is expected to take up batch of pleas filed in the matter. 
WATCH VIDEO: