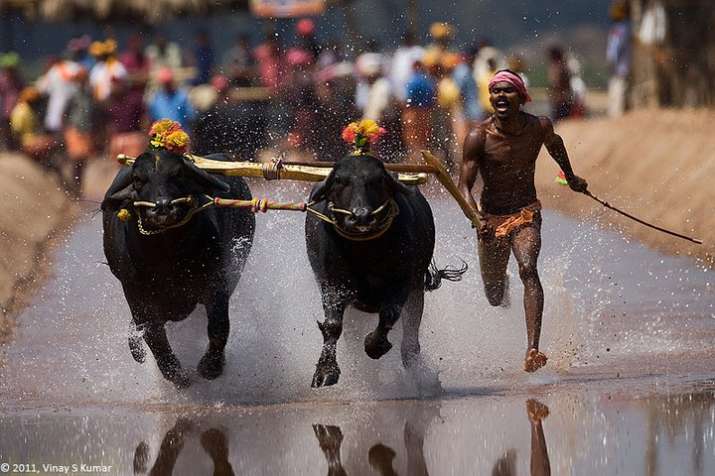 Caving in to the demands of protesters across the state seeking lifting of the ban on a traditional buffalo racing sport, the Karnataka Assembly today passed a bill to facilitate the conduct of "Kambala", an annual sport held in the coastal districts of the state.
The demand for holding Kambala grew with the success of the stir in Tamil Nadu for allowing Jallikattu (taming of bull), which led to the state government bringing a similar amendment to the Central act.
Kambala committees and various Kannada organisations had held protests at several places against the ban.
Amid continuing protests against the ban, the Karnataka Cabinet had on January 28 decided to amend the Prevention of Cruelty to Animals Act to pave the way for Kambala.
The protesters are demanding an ordinance, as was done in the case of Jallikattu to permit holding of the folk sport.
The centuries-old buffalo races are held in the wetlands of coastal districts of Dakshina Kannada and Uduipi, about 400km from Bengaluru, from November-March every year to celebrate a good harvest and as a recreational sport for farmers and rural folk.
The annual sport involves a pair of buffaloes tied to the plough and anchored by one person. They are made to run in parallel muddy tracks in a competition in which the fastest team wins.
It is believed to be held to propitiate the Gods for a good harvest, besides being a recreational sport for farmers.
PETA, on the other hand, has been arguing that the agitators in Karnataka have taken a leaf out of the pro-Jallikattu protesters' book and begun to falsely label PETA India as 'foreign' and were now calling for banning the organisation.
Facing growing demand for holding Kambala, Chief Minister Siddaramaiah has said an ordinance could be brought in, if necessary, to allow the event after seeking legal opinion.
He had also asked the Centre to take a favourable stand on Kambala as it did on Jallikattu, where both Tamil Nadu and Central governments, after facing public pressure moved swiftly to facilitate the sport.
A Karnataka High Court division Bench, headed by Chief Justice S K Mukherjee, had in November last year stayed holding of Kambala on a petition by the People for Ethical Treatment of Animals (PETA) challenging it in view of orders passed by the Supreme Court on Jallikattu.
On January 30, 2017, the High Court had said it would await the Supreme Court verdict on Jallikattu case.
(With agencies)