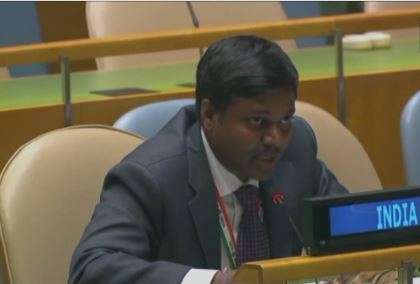 During the right to reply at United Nations General Assembly (UNGA), on Monday, India stressed that Jammu and Kashmir is an integral and inevitable part of the country.
"J&K is an integral & inevitable part of India. No amount of empty rhetoric from Pakistan will change this reality," said Sandeep Kumar Bayyapu, First Secretary at UNGA.
"1 delegation has yet again misused the platform to made an unwarranted reference to the Indian state of J&K," he added during a general debate on responsibility to protect and prevention of genocide, war crimes, ethnic cleansing and crimes against humanity.
It is pertinent to mention here that on Sunday the Congress hit out at the government over the United Nations report on alleged human rights violation in Kashmir, saying how it allowed the world body to come out with such a report.
Congress spokesperson Pawan Khera, during a briefing in Delhi, accused the government of "criminal failure" on the foreign policy front. "We are very agitated, concerned and worried, (that) how did the UN report on human rights see the light of the day. The prime minister keeps going to address the diaspora across the world. He talks big, comes back and this is what we get," Khera said.
The UN, earlier in June, had released the first-ever report on alleged human rights violation in Kashmir and Pakistan-occupied Kashmir (PoK) and demanded an international probe into it, evoking a sharp reaction from India which had termed the document as "fallacious and motivated".
New Delhi had also lodged a strong protest with the UN, saying the government is "deeply concerned that individual prejudices are being allowed to undermine the credibility of a UN institution." The Congress had supported the government's stand in dismissing the UN report on human rights violations in Jammu and Kashmir, terming it a "prejudiced attempt" by vested interests to hurt India's sovereignty and national interests.
(With inputs from agencies)