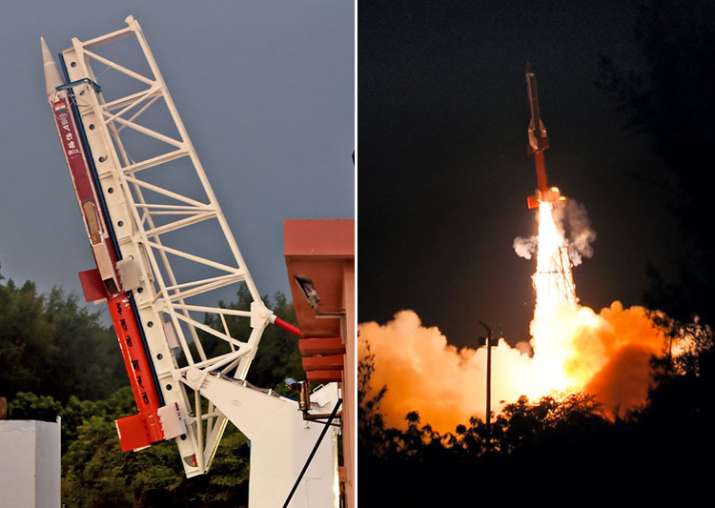 The Indian Space Research Organisation (ISRO) on Sunday successfully conducted scramjet engine test at Satish Dhawan Space Centre (SDSC) in Sriharikota in Andhra Pradesh.
The rocket, also called Advanced Technology Vehicle (ATV), took off at 6 am today with a lift-off weight of 3277 kg. The engine was tested for a mere 5 seconds.
"The important flight events, namely, burn out of booster rocket stage, ignition of second stage solid rocket, functioning of Scramjet engines for 5 seconds followed by burn out of the second stage took place exactly as planned," ISRO said in a press release.
After a flight of about 300 seconds, the vehicle touched down in the Bay of Bengal, approximately 320 km from Sriharikota. 
ISRO scientists said that the engine will eventually be used to power its reusable launch vehicle (RLV) at hypersonic speed.
The scramjet engine, used only during the atmospheric phase of the rocket's flight, will help in bringing down the launch cost of weather satellite INSAT-3DR by reducing the amount of oxidiser to be carried along with the fuel.
The scramjet engine uses air breathing propulsion technology for hypersonic flight. Scramjet engine contributes to smaller launch vehicles with more payload capacity which brings down the cost of access to outer space considerably. 
While conventional rocket engines need to carry both fuel and oxidiser on board for combustion to produce thrust, scramjets obtain oxygen from the atmosphere by compressing the incoming air before combustion at supersonic speed. 
India is the fourth country to demonstrate the flight testing of Scramjet Engine after the US, Russia and European Space Agency. 
"The successful technology demonstration of air-breathing Scramjet engines in flight by ISRO today is a modest yet important milestone in its endeavour to design and develop advanced air breathing engines including engines for ISRO's future space transportation system," ISRO said.