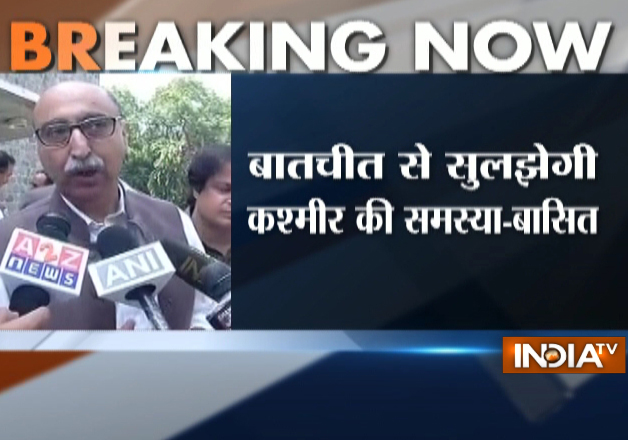 Amid rising tension between India and Pakistan on Kashmir, Pakistan High Commissioner to India, Abdul Basit, today said that 'dialogue is the only way to find solution of the situation' and that Islamabad was ready to discuss the dispute with New Delhi.
He also said that Pakistan made efforts to improve relations with India but 'it did not move forward'.
"You all know that we took a step towards having dialogue but that didn't work out. We did send invite to India but that did not move forward. We do feel talks on Kashmir is needed," Basit told reporters here.
Basit's remark came in the wake of Indian Foreign Secretary S Jaishankar's response to his Pakistani counterpart's 'talk offer' that Islamabad has an 'attitude towards use of terrorism as an instrumental policy of diplomacy which makes the Indo-Pak relationship difficult to grow'.
Earlier in the day, J&K CM Mehbooba Mufti said that Pakistan was repeatedly wasted chances to talk and resolve issues. She also blamed Islamabad for provoking fuelling the unrest in Kashmir.
When asked about India's demand that Pakistan must extradite 'global terrorist' Dawood Ibrahim, who is believed to be hiding in Pakistan, he said, "Ye baat purani ho gayee hai (The matter is too old now)."
MEA Spokesperson Vikas Swarup had yesterday said that Pakistan must extradite underworld don Dawood Ibrahim whom they have provided sanctuary for long.
Swarup's remarks came after the designated global terrorist's presence in Pakistan was confirmed by United Nations.
The findings of the United Nations' 1267 monitoring committee recently confirmed that six of the nine addresses submitted by India to it had been confirmed to belong to the man who masterminded 1993 serial blasts in Mumbai that claimed 250 lives.