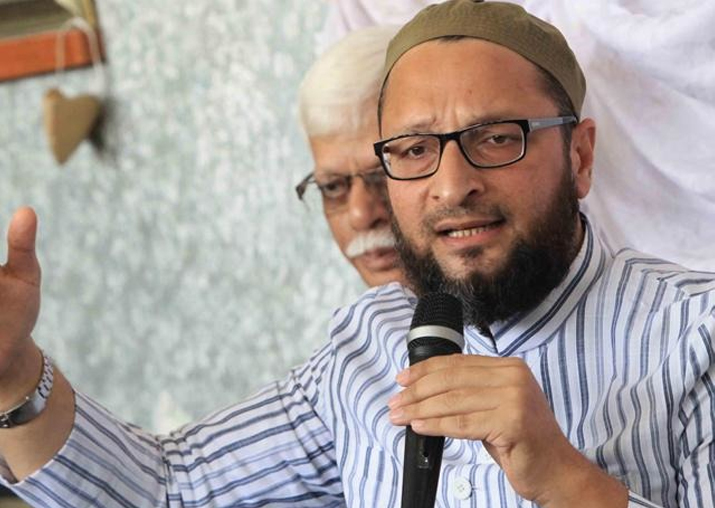 AIMIM president Asaduddin Owaisi today criticised RSS chief Mohan Bhagwat for his comment that only a Ram temple would be built at the disputed site in Ayodhya. 
Owaisi said Bhagwat had no authority to make such an "announcement". "Is Mohan Bhagwat the Chief Justice? Who is he?" asked Owaisi, according to ANI news agency. 
"Who gave permission to Mohan Bhagwat that he announced in 'Dharm Sansad' that only a Ram temple would be built there and nothing else? Who is Mohan Bhagwat? 
"If you are saying so to intimidate us, remember that we cannot be intimidated," the Lok Sabha MP from Hyderabad said. 
Owaisi was speaking at a meeting held in connection with the anniversary of the demolition of the Babri mosque at Ayodhya on December 6, 1992. 
Speaking at a congregation of Hindu saints, mutt heads and VHP leaders at the 'Dharm Sansad' (parliament of religion) at Udupi in Karnataka late last month, Bhagwat made a strong pitch for building a Ram temple at the disputed site in Ayodhya. 
The RSS chief said only a temple would come up at the site and not any other structure.
Last month, BJP MP Subramanian Swamy also expressed optimism that the construction of a Ram temple would begin in Ayodhya by next Diwali. Swamy is an intervenor in a petition challenging the Allahabad High Court decision on the Ayodhya land dispute in Supreme Court, claiming that his right to worship in the temple is being hampered by the long drawn-out court case on Ayodhya.
Meanwhile, the Supreme Court will begin the final hearing in the Ram Janmabhoomi-Babri Masjid title dispute from Tuesday, a day before the 25th anniversary of the demolition of the medieval-era structure.