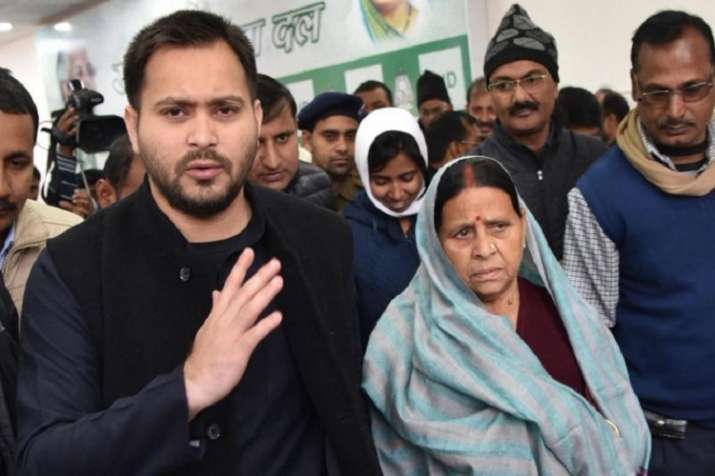 Former Bihar chief minister Rabri Devi and her younger son Tejashwi Yadav appeared before Delhi's Patiala House court on Friday in connection with  a money laundering case related to the 2006 Indian Railway Catering and Tourism Corporation (IRCTC) hotels maintenance contract. Both were granted bail by the court on personal bond and surety amount of Rs 1 lakh each. However, Special Judge Arun Bhardwaj didn't grant relief to RJD chief Lalu Yadav, who  has also been charge-sheeted in the case. The court has issued production warrant against Lalu Yadav for October 6. The former Railway Minister is currently serving his term in Birsa Munda Jail in Ranchi in connection with fodder scam.
Both Rabri, Tejashwi and RJD chief Lalu Yadav were named in the chargesheet filed in the case by the Enforecement Directorate (ED) earlier this week.
The ED in its chargesheet also named Lalu's party colleague PC Gupta, his wife Sarla Gupta, a firm Lara Projects and 10 others as accused in Indian Railway Catering and Tourism Corporation (IRCTC) hotels tender case.
HIGHLIGHTS:
10:21 am: This is a legal battle...we will fight and definitely win it, RJD leader Manoj Jha tells reporters outside the court.
10:17 am: Tejashwi Yadav, Rabri Devi granted bail by Delhi's Patiala House court in IRCTC Scam case.
10:15 am: CBI has asked for issuance of a production warrant against Lalu Prasad Yadav. He is not appearing before Delhi's Patiala House Court today as he is in judicial custody in Ranchi.
09:50 am: Rabri Devi and her son Tejashwi Yadav have reached Patiala House court for hearing in IRCTC hotels maintenance contract case. 
Delhi: Former Bihar CM Rabri Devi & RJD leader Tejashwi Yadav leave for Patiala House court, to appear in connection with the Indian Railway Catering and Tourism Corporation (IRCTC) scam case. pic.twitter.com/3TlrP314Ub

— ANI (@ANI) August 31, 2018
WHAT IS THE CASE
The case relates to alleged irregularities in the allotment of contracts of two IRCTC hotels in Ranchi and Puri in 2006 to a private firm involving a bribe in the form of a three-acre commercial plot at a prime location in Patna district.
The ED alleged that Lalu Yadav and IRCTC officials allegedly misused their position for granting sub-lease of the rights of two railway hotels at Puri and Ranchi to Sujata Hotel Private Limited owned by Kochhars.
"In lieu thereof, 358 decimal (3.5 acre) of prime land were transferred to Delight Marketing Company Pvt Ltd (a company owned by family of Gupta) in February 2005 at a consideration which was much less than the then prevailing circle rates," the ED said.
The funds used to acquire the land had a dubious origin and had been laundered through IST group of companies belonging to Gupta by using an NBFC named Ms Abhishek Finance Company Limited belonging to PNR group of companies. 
Subsequently, the shares of Delight Marketing Company Private Limited were acquired by Rabri Devi and Tejashwi at less than fair market value.
The Central Bureau of Investigation (CBI) in April filed the chargesheet in the IRCTC hotels maintenance contract case against 12 people and two companies.
WATCH: Tejashwi, Rabri get bail in IRCTC case, but no relief for Lalu
(With inputs from agencies)