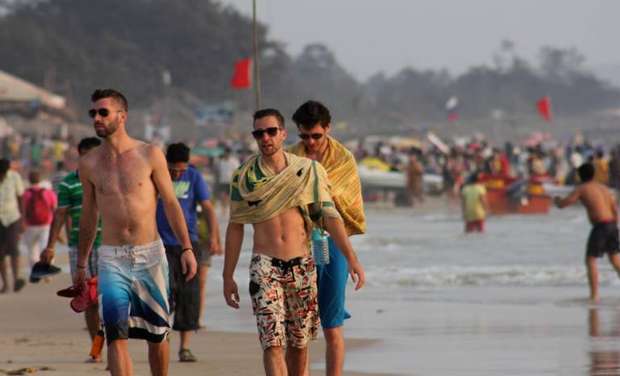 Yearning for a Goa trip at affordable rates? Well, Indian Railway Catering and Tourism Corporation (IRCTC) is offering bus services at an extremely cheap price and the offer has been put by IRCTC on its official website
www.irctc.co.in
. A 'Hop On Hop Off Goa By Bus' package on IRCTC website is now available, which would cover many prominent and famous destinations fron North Goa to South Goa at just Rs 400. Known for its beautiful sandy beaches, clear blue waters, idyllic lifestyle, Goa embraces any newcomer into its fold. A wide range of religious places form an integral part of the historic and religious tourist spots of Goa. 
Name of the Package: Hop on Hop off Goa by bus
Itinerary route: North Goa-South Goa Land Package 
Cost/Price per person: North Goa - 400/- per person, South Goa - Rs 400/- per person and Combo Pack - Rs 600/- per person
Famous places to be covered in the Goa trip: 
Route 1: (North Goa)
South Central Goa sightseeing of Dona Paula, Goa Science Museum, Miramar Beach, Kala Academy, Bhagwan Mahaveer Garden, Panjim Market, Casino Point, River Boat Cruise & Old Goa (Basilica of Bom Jesus (St. Francis Xavier), Se Cathedral, St. Catherine Chapel, Arc of Viceroy, ASI Museum & St. Augustine).
Route 2: (South Goa)
Visit famous for North Goa sightseeing of Fort Aguada, Sinquerim Beach/Fort, Condolim Beach, St. Antony Chapel, St. Alex Church, Calangute Beach, Baga Beach, Anjuna Beach, Chapora Fort & Vagator Beach.
Route 3: (North Goa & South Goa)
Visit famous for Inter Connecting sightseeing of Mall De Goa & Saligaon Church.
IMPORTANT FEATURES OF GOA BUS SERVICE:
# Convenient operations timings: 09:00 hrs to 18:00 hrs.
# Safe and comfortable seating with safety belts on the top and rear decks. 
# All buses are equipped with PA system & LED TVs and are enabled with goa fencing running pre recorded commentary.
# Number of Tourist Interest points - 24 nos (Both the routes).
# Guest relations executive on board each of the buses.
# Mobile apps for a personalised running commentary in several foreign languages.
# Convenient Frequency - 60 minutes.
# No of schedulde per day - 12 to 14 nos.
# Well trained & Experenced Bus pilots.
HOW TO BOOK TICKETS FOR THIS GOA TRIP, DETAILS, PROCEDURE, STEPS: 
DETAILS: The booking for a particular date will be closed four days in advance. The details of procedure adopted for the bookings will be:
# The bookings will be carried out through IRCTC portal as well as offline.
# Cut off date for booking will be 4 days prior to tour date.
# List of passengers will be mailed to Purple Holidays 4 days in advance.
# The name of the passenger with every details and boarding point will be conveyed.
# The passenger will carry an e-mail confirmation for boarding.
HOW TO BOOK YOUR TICKETS: STEPS
Step 1: Log on to IRCTC official website
Step 3: Click on drop down list titled 'Holidays' - 'Packages' - 'Tour Packages'
Step 4: Now Click on 'Domestic' destinations
Step 5: On the left side, click on the region 'Goa'
Step 6: Now Click on 'Book', select seats etc as per your requirements
Step 7: Now create a login on the IRCTC website
Step 8: Enter passenger details, summary will appear
Step 9: Pay the amount
Step 10: Get confirmation of the booking on the IRCTC website
GOA TRIP: CANCELLATION POLICY
No. of days before commencement of Trip*            Total Deductions
Up to 15 days (excluding departure date)                Rs. 100 /- per passenger
Up to 8-14 days (excluding departure date)             25 % of the package cost
Up to 4-7 days (excluding departure date)               50 % of the package cost
Less than 4 days                                                      100 % of the package cost