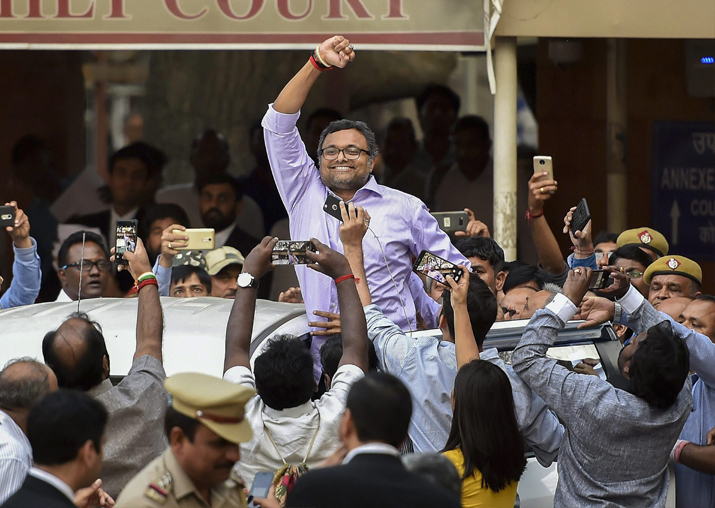 A special Delhi CBI court today granted the CBI three more days to interrogate Karti Chidamabaram, son of senior Congress leader P Chidambaram, who has been in the CBI custody since February 28, in connection with the INX Media corruption case.
This comes after the Delhi High Court restrained the Enforcement Directorate from arresting Karti till March 20. 
The CBI, which produced Karti before special judge Sunil Rana on the expiry of his three-day custody, sought his custody for six more days to interrogate him, saying "new incriminating materials" have been found against him. But the court extended Karti's custodial interrogation by CBI till March 12.
The court also allowed the CBI to confront Karti with his CA S Bhaskararaman who was arrested by the Enforcement Directorate on February 16 and has been sent to judicial custody till March 22.
The CBI has already taken nine days police custody of Karti out of the 15 days prescribed under law.
The court further listed hearing on Karti's bail plea on March 15.
While seeking extension of his custodial interrogation for six more days, Additional Solicitor General Tushar Mehta, said that a CD has been recovered in connection with the case which needed to be sent to Central Forensic Science Laboratory (CFSL) for examination.
The ASG said that new incriminating materials have been found and he has to be confronted with them.
However, senior advocate Abhishek Manu Singhvi, who is the party colleague of P Chidambaram, opposed any further custodial interrogation of Karti.
"It's tragic for me (Karti). They have no new reason for my remand. They are inventing one. CBI has to justify remand every day and every minute," Singhvi said on behalf of Karti.
It is a ten-year-old case and all the documents are available with them and "they need my custody to harass me", Karti said through his counsel.
Before commencing the proceedings on Karti, the court extended the judicial custody of his CA, S Bhaskararaman, who was arrested by the Enforcement Directorate in the case,  till March 22.
In his bail plea, Karti, who was arrested by the CBI at Chennai Airport on February 28, claimed that he had never attempted to influence witnesses, tamper with documentary evidence, pollute or obstruct the judicial process as was alleged by the probe agency.
The CBI had lodged an FIR on May 15 last year alleging irregularities in the FIPB clearance to INX Media for receiving overseas funds to the tune of Rs 305 crore in 2007 when P Chidambaram was the Union finance minister.
The agency has alleged that Karti had received funds to the tune of Rs 10 lakh in the case. The Enforcement Directorate (ED) has also registered a money laundering case in the INX Media case.