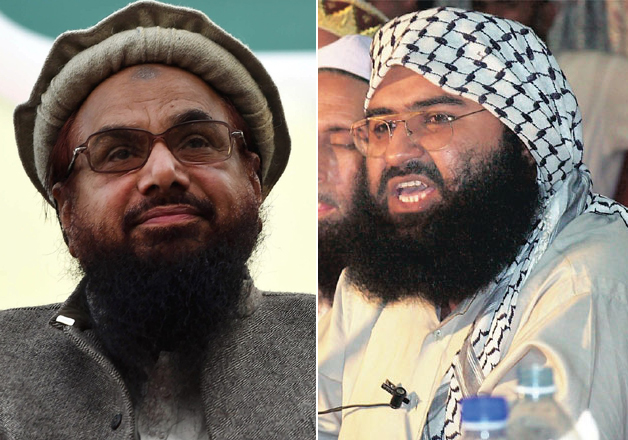 Having rejected Pakistan's proposal to hold talks on Kashmir, India is now looking to send another dossier to Islamabad on the involvement of JuD chief Hafiz Saeed, Hizbul Mujahideen chief Syed Salahuddin and JeM chief Masood Azhar in terror activities and on their role in the violence in Kashmir that erupted after Burhan Wani's killing on July 8, sources said.
Hafiz Saeed along with Syed Salahuddin had held a prayer meeting for Wani at a terror camp in Muzaffarabad where he asked the terror cadres to avenge the killing of the Hizbul militant.
The decision was taken at a high-level meeting today in the Prime Minister's Office (PMO) to decide New Delhi's future course of action.
During the meeting, it was also decided that New Delhi will take up the issue of a reciprocal visit of the National Investigation Agency (NIA) to Islamabad for the Pathankot IAF base terror attack probe. A Pakistani joint investigation team visited India earlier this year, and the NIA shared the details of its investigation with it.
The details of recently arrested Pakistani terrorist Bahadur Ali will also feature in the dossier, sources said, adding that all agencies have been asked to come with details.
Last month, the US had handed a 1000-page dossier to the NIA that validated the charges levelled by India that the Pathankot attack was planned, organized, directed and co-ordinated from Pakistani soil. It had also stated that Pakistan-based terror group had carried out the attack at the frointier IAF base.
India had in past handed over a dossier to the Pakistani government about use of its soil to administer terror activities against India, but the Pakistani authorities failed to take any concrete action.
Meanwhile, the Ministry of Home Affairs today held a high level security review meeting. The meeting, chaired by Union Home Minister Rajnath Singh was attended by top security officials including Home Secretary Rajiv Mehrishi, National Security Advisor (NSA) Ajit Doval and the chiefs of RAW and IB.
Sources said that following the meeting, the NSA was likely to apprise Prime Minister Narendra Modi of the overall security scenario.
The latest development hold significance as it comes in the backdrop of PM Modi's open support to 'freedom' for PoK in I-Day speech.