Follow us on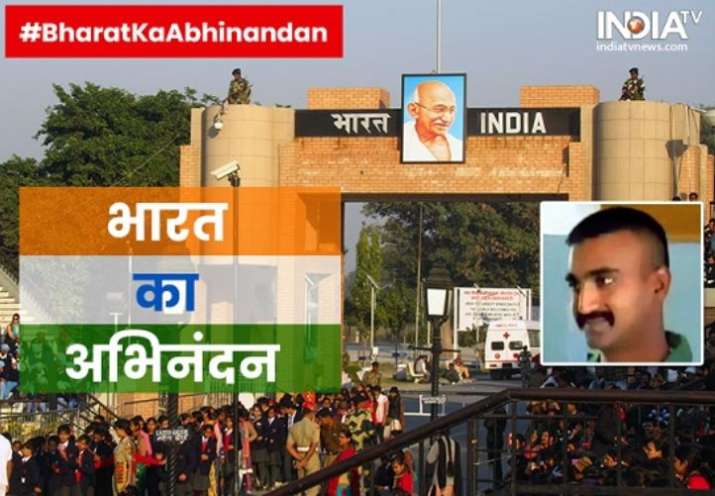 IAF pilot, Wing Commander Abhinandan Varthaman returned to India on Friday night via Wagah border. He finally emerged at 9.10 pm (IST) at the Wagah checkpost on the Pakistani side, accompanied by Pakistani rangers, the Indian air attache posted in the High Commission in Islamabad. He was wearing a civilian clothes -- a dark jacket and khakhi trousers, walking proudly toward the gates that separated his captors' country from his homeland.
HIGHLIGHTS:
06:20 pm: After returning from Pakistan, Wing Commander Abhinandan Varthaman has informed that though he was not physically tortured by the Pakistanis; he went through a lot of mental harassment (ANI quotes sources as saying)
06:15 pm: Madhur Bhandarkar: None of them (from Pakistan) condemned Pulwama attack. Even none of the actors of their fraternity who have worked here or several Pakistani actors who have gained name & fame in our country, condemned it. They could have at least tweeted in name of humanity.
05:43 pm: Union Minister Nitin Gadkari says, "Exemplary bravery and commitment to the nation displayed by Wing Commander Abhinandan Varthaman is a source of inspiration for the youth".The safe return of the brave pilot is a matter of happiness and relief for the country, he said on the sidelines of an event.
04:15 pm: Defence Minister Nirmala Sitharaman met Wing Commander Abhinandan Varthman in a hospital today.
03:45 pm: Samjhauta Express services to resume from India from March 3.
03:05 pm: According to IAF officials, Wing Commander Abhinandan Varthaman met IAF Chief BS Dhanoa today morning and explained his detention in Pakistan. The Wing Commander will stay at Air Force Officer's Mess.
02:45 pm: Entire world stands together against terrorism. No representative of India used to be invited to Organisation of Islamic Cooperation (OIC) but India's image has become such, that OIC invited India for the first time. It is a diplomatic victory: Union Home Minister Rajnath Singh
01:36 pm: Jammu and Kashmir: Pakistan violated ceasefire in Nowshera sector of Rajouri district at 12:30 pm today. Indian Army is retaliating
01:20 pm: Rahul Gandhi does not have faith on Indian Army. For us country is important, not the polls: Amit Shah at a rally in Umaria, Madhya Pradesh
01:15 pm: Only Modi govt can give a befitting reply to terrorism. Has Congress govt ever acted the way we have done?: Amit Shah 
12:21 pm: Abhinandan Varthaman goes for medical check-up, wishes pour in
10:06 am: ISI may try to mix poison in the food supply of Indian Army: Intelligence  
9:05 am: In addition to Pakistan, India provides dossier to US, Russia and China: Sources 
8:00 am: Abhinandan is likely to undergo a detailed medical checkup on Saturday. He will also undergo debriefing.
As he set his foot back on Indian soil, his first reaction was, "It is good to be back in my country." This was stated by an official quoting Varthaman after he received the pilot at the Attari-Wagah border soon after his release by Pakistan.
In its reaction, the Indian Air Force (IAF) said on Twitter, "We have Wg Cdr Abhinandan back with us. Indian Air Force is proud of our Airwarrior #Abhinandan."
Varthaman was captured by Pakistani authorities on February 27 after an air combat between the air forces of the two countries, a day after New Delhi had conducted counter-terror operations in Pakistan's Balakot.
"We are happy to have him back," said a top IAF officer shortly after Varthaman was handed over to Indian authorities.
Reading out a brief statement, Air Vice Marshal R G K Kapoor, assistant chief of Air Staff, told a posse of reporters that the pilot will be taken for a detailed medical examination as he was subjected to lot of stress during his nearly three-day captivity.
"He will be taken for a detailed medical checkup. The officer has had to eject from a plane which would have put his body under immense strain," said Kapoor.
The Air Vice Marshal did not take any question from the media.
Pakistan PM Imran Khan was in Lahore to ensure 'smooth' handing over of Indian pilot: Sources
Pakistan Prime Minister Imran Khan was present in Lahore to oversee the 'smooth' handing over captured Indian Air Force pilot to India at the Wagah border on Friday, official sources said.
Khan arrived in Lahore on Friday afternoon, a couple of hours before IAF pilot Wing Commander Abhinandan Varthaman was brought to the Wagah border from Islamabad, amid high security.
"PM Khan's main purpose of being in the town was to oversee the 'smooth' handing over of the captured Indian pilot to the Border Security Force," an official source told PTI.
Khan had announced on Thursday that Abhinandan would be released on Friday without any preconditions as a "gesture of peace".
WATCH VIDEO:

(With inputs from agencies)