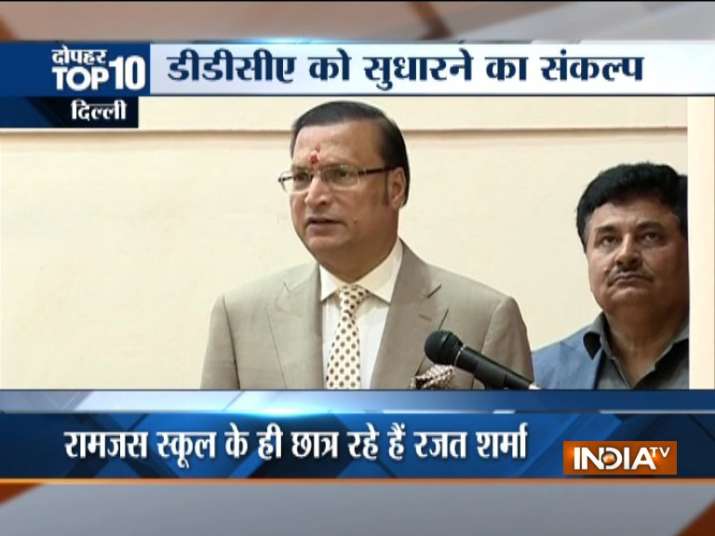 Reiterating his resolve to resurrect things at the Delhi and District Cricket Association (DDCA), IndiaTV Chairman and Editor-in-Chief Rajat Sharma on  Saturday (July 14) said that only hard work and dedication can help one achieve the set target.
Speaking at Delhi's Ramjas School, where he was felicitated for being elected as DDCA President, Rajat Sharma said he is aware of the challenges associated with the new role but also confident to achieve the best.
Recalling how he was cautioned by many after winning the DDCA elections, Rajat Sharma said he aims to transform the DDCA, which has been in the news for all the wrong reasons, into a leading cricket body of the country.
"After I was elected as DDCA President, several people called me to congratulate. However, they also warned me about the post being crown full of thorns," he said.
"I am aware that people used DDCA for their vested interests. I know it not an easy job but all it needs is firm belief and clean intentions. This is a big opportunity for all of us to transform DDCA into a transparent organisation," Rajat Sharma said while addressing students and dignitaries at his alma mater.
Earlier this month, Rajat Sharma Rajat Sharma became the new President of the DDCA after registering a landslide victory. Mr. Sharma received a total of 1,521 votes (54.40 per cent) in his favour.
Watch: DDCA President post is a 'crown of thorns', but I will transform it, says IndiaTV Chairman and Editor-in-Chief Rajat Sharma