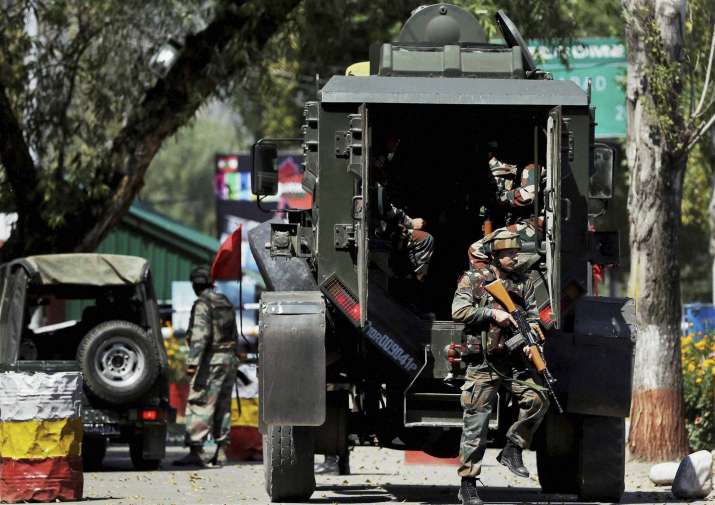 At a time when sparks are flying high between India and Pakistan in light of Sunday's deadly attack at an army camp in Uri that claimed lives of 18 Indian soldiers, a new survey has revealed that over three-fifth of Indians support use of military force to defeat the scourge of terrorism.
According to annual Pew Research Center's survey, "About six-in-ten Indians (62 per cent) believe that overwhelming military force is the best way to defeat terrorism around the world. Just 21 per cent say relying too much on such force creates hatred that leads to more terrorism.
The survey was conducted among 2,464 respondents from April 7 to May 24, said half of the respondents disapprove of Modi's management of India's volatile relationship with Pakistan.
Notedly,a section of security establishment is in favour of launching surgical strikes against Pakistan to destroy terror camps operating in Pakistan-held Kashmir. It would act as a counter measure to Uri and Pathankot like attacks that have caused heavy casualty in Indian army.
After 18 soldiers were killed in an ambush in Manipur in June 2015, Indian forces went across the border into Myanmar and neutralised them. This option was mooted against Pakistan-backed militants but never exercised. Pakistan is a different kettle of fish to Myanmar though.
However, India can make Pakistan bleed without crossing the border too.Targeted artillery and heavy-mortar fire on Pakistan army posts and bunkers and intensive sniping to interfere with movement of their patrols are among the several tactical options used in the past.
Prime Minister Narendra Modi has assured the country that those behind the attack "will not go unpunished". 
However, the survey found that Prime Minister Narendra Modi's Pakistan policy has few takers.
Modi's Pakistan policy is approved by just 22 per cent, said the survey, which was conducted in the months after the terrorist attack at the Pathankot Air Force base coming from across the border.
"Notably, however, more than half of BJP supporters (54 per cent) and a plurality of Congress party adherents (45 per cent) disapprove of the prime minister s handling of relations with Pakistan," the report said.
Across party lines, more than six-in-ten (63 per cent) think the country should increase spending on national defence, just six per cent want to decrease it and 20 per cent want to keep it at current levels.