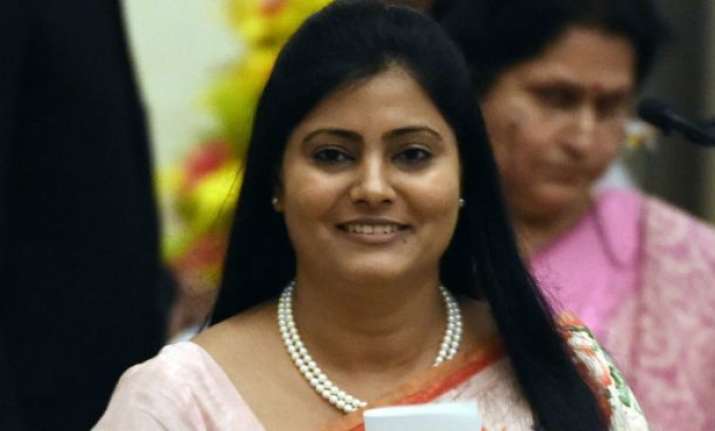 Amid voices of criticism from several quarters against the government's new Surrogacy Bill that seeks to ban commercial surrogacy, Union Minister of State for Health and Family Welfare Anupriya Patel on Thursday came out strongly in defence of the proposed legislation observing that commercial surrogacy had become a means of exploiting vulnerable women and children.  
"We want to communicate that surrogacy should be the last option and we in no way are going to promote the idea of commercial surrogacy," Patel said.
She said the government is "conscious and sensitive" and various issues which have not been touched so far may be addressed in the course of discussions in the Parliament.
The bill is yet to be tabled in Parliament and there will be many more rounds of deliberation, Patel said. "It's a long process. I believe that the outcomes are going to be in the larger interest of the nation," she said.
According to the minister, 80 per cent of the total child births taking place through surrogacy in India are for foreign nationals. 
"Women in India are not baby factories. If you consider the total number of births of children which are taking place through surrogate mothers, 80 per cent of such births have been for foreign nationals."
"Why are they doing this? Are Indian women only made for this purpose? They are trying to escape the tough laws of surrogacy in their own homeland and therefore they are coming to India because poor, vulnerable tribal women are easily available. They give them petty money," she said.
The bill proposes a complete ban on commercial surrogacy and allows only legally-wedded Indian couples to opt for it. It also seeks to bar unmarried couples, single parents, live-in partners and homosexuals from opting for surrogacy.
Patel said commercial surrogacy is taking place only in some countries, like Russia and Ukraine. "India joins the lists of countries which has banned commercial surrogacy. That means, world over a consciousness has been created. Nobody wants to promote this idea so why should India lag behind? It's a menace, it's exploiting our women and society," she said.
She said there are women who negotiate with their families and enter into this "business" and are doing it by conscious choice. "We, sitting here as a conscious and sensitive government, want to persuade them that selling your body is not the only way of earning a living. The Modi government gives you a number of options."
"We also want to give a message to those families who are encouraging women members to bring easy money for them by getting their own body exploited. There are biological implications for a woman," she said.
Patel said just because many crimes against women are not reported, it would be wrong to say they are not happening. The same logic goes with surrogacy and that is why, the Health Ministry wants to tackle it at the grassroots level, she said.
Speaking about provision of banning NRIs in the Surrogacy bill, she said the biggest problem with them was that they come to India, have babies, go back to their countries and then the issue of citizenship arises.
"There are also issues, like when couples rent a womb, there is a possibility of triplets or twins. The couple says they are going to take one child, extra child is either killed by the doctor or abandoned. So we have to be careful about the issue," she said.
(With agency inputs)