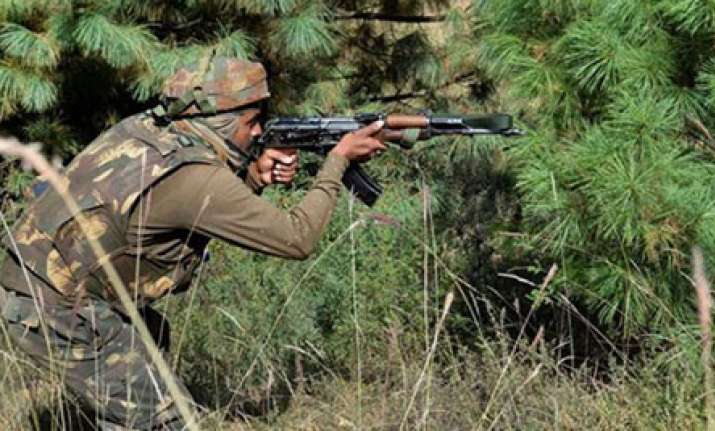 An Indian Army soldier and two civilians were killed today  in Pakistani firing in Jammu and Kashmir.  The ceasefire violations by Pakistan are continuing for the third consecutive day today.
According to officials, one Army jawan was killed at the LoC in Poonch while two civilians were killed at the International Border (IB) in Jammu.
In last three days, 9 Indians including 2 BSF jawans, 2 Army jawans  and 5 civilians have been killed in ceasefire violations by Pakistan. 
The firing and shelling were still underway when the reports last came in this morning, the official said.
Also Read: 10 Pakistani Rangers killed as BSF retaliates to Pak Army's unprovoked shelling, firing in Jammu and Kashmir
An Army jawan was today killed after being hit by a bullet during cross-border firing in Krishna Ghati sector of Poonch district, the officials said. 
A defence spokesman identified the slain soldier as sepoy Mandeep Singh (23), a resident of Alampur village of Sangroor in Punjab. 
He said the Pakistani Army initiated unprovoked and indiscriminate firing of small arms and automatics form 0820 hours in Krishna Ghati sector, resulting in grievous injuries to Singh who later succumbed. 
The Indian Army retaliated strongly and effectively, the spokesman said. 
The officials said two civilians, Gaura Ram (17) of Kapur R S Pura and Gour Singh (45) of Abdullian, were killed and five others injured in firing by Pakistani rangers along the IB in Jammu district. 
A BSF spokesman said cross-border firing was underway in the area from Octroi to Chenab (Akhnoor) in Suchetgarh sector of R S Pura from this morning. 
He said the firing in R S Pura sector stopped around 1.30 am but resumed again after four hours.  He said a BSF jawan in Pargwal sector was injured in the heavy firing and shelling and was later hospitalised.  The BSF is retaliating and the exchange of fire between the two sides was underway till the last reports were received.
 
A jawan of the Sashastra Seema Bal (SSB) was injured in cross border shelling in Jammu, officials said. The jawan, constable Lallu Ram, was evacuated to a nearby hospital and was said to be stable. 
The jawan, who belongs to the 14th battalion of the force, was deployed for rendering law and order duties along with the Jammu and Kashmir Police at the Kanachak police station, when he was hit by splinters of a mortar shell that landed in the area. 
While a BSF jawan and a teenaged girl were killed on Thursday, four people—two civilians and one BSF jawan and an Army jawan—were killed and over 40 others, including two BSF personnel, injured in the Pakistani firing yesterday.  
The heavy firing had forced thousands of border residents to flee their homes and authorities announced closure of educational institutions for three days along the LoC and IB.  Between 8,000 to 9,000 people living along the IB have migrated to safer places and most of them were living with their relatives, officials said. 
Over 1,000 people are housed in camps in R S Pura, Samba and Kathua areas, they said.
The officer said Pakistan was targeting civilian villages to cause death and destruction and added that the BSF was giving them a befitting reply.
The Pakistan rangers continued to fire and launch shells along the IB in Arnia, Ramgarh, Samba and Hiranagar sectors till 5 am, a police official said.
Two people were injured in Kanachak sector of Akhnoor, and a girl sustained minor splinter injuries, the official said.
Between 8,000 to 9,000 people living along the IB migrated to safer places and most of them were living with their relatives, the official said.
Over 1,000 people are housed in camps in R S Pura, Samba and Kathua areas, he said.
Educational institutes have been closed for next three days along the IB and the LoC in Jammu region by authorities in wake of increased tension along the Indo-Pak border, officials said.
Two security forces jawans and as many civilians were killed and 35 others injured in mortar shelling by the Pakistani troops on civilian areas and BoPs along the International Border and the LoC in four districts yesterday, officials said.
(With PTI inputs)