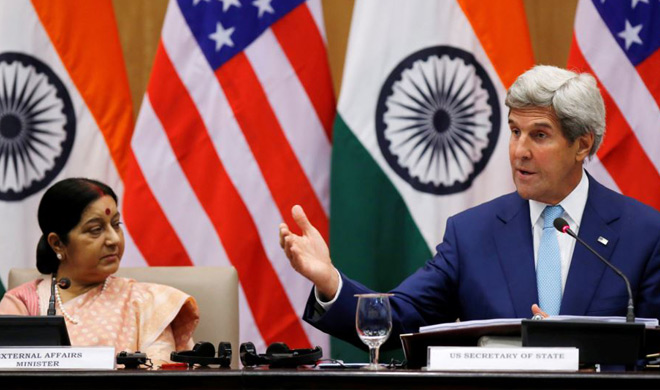 India and United States are now on the same page on a range of issues including South China Sea dispute, Nuclear Suppliers Group (NSG) membership and terrorism.

 

In case of South China Sea dispute, India and US today called for "utmost respect" for global law which becomes significant in view of an international court ruling against China's territorial claims in the South China Sea.
The two sides called for maintaining "unimpeded lawful commerce" throughout the disputed region.
The US once again urged the NSG member countries to support India's bid in their "common interest". The two countries  said that they will "redouble" efforts towards New Delhi's early entry into the Nuclear Suppliers Group (NSG) which was opposed by China in Seoul.
In a joint statement issued today summarising outcome of Tuesday's meeting, the two strategic partners condemned terrorism in all its forms and reaffirmed their commitment to dismantle safe havens for terrorist and criminal networks such as IS terror outfit, Al-Qaeda, Lashkar-e-Taiba, Jaish-e- Mohammad, D Company and its affiliates, and also the Haqqani Network.
"The sides also called on Pakistan to bring the perpetrators of the 2008 Mumbai and 2016 Pathankot terrorist attacks to justice. The sides will continue to review and consider other organizations that warrant terrorist designations including those that engage in cross-border terrorism," the joint statement said.
About South China dispute, the two sides "stressed the importance of maintaining freedom of navigation, freedom of overflight, and unimpeded lawful commerce throughout the region, including in the South China Sea.
Calling for "utmost respect" for international law, as reflected in the UN Convention on the Law of the Sea (UNCLOS), they reiterated that States should resolve disputes through peaceful means, and exercise self-restraint in the conduct of activities that could complicate or escalate disputes.
China has been increasing its assertiveness in South China sea notwithstanding the verdict of an arbitration court in The Hague that China had no historical title over the South China Sea.
On India's NSG bid, the statement said, "In a further effort to strengthen global non-proliferation and export controls, the sides committed to redouble their efforts towards India's early entry into the NSG"
The US also re-affirmed its support for India's early membership of the other export control regimes -- Australia Group and the Wassenaar Arrangement.
China had objected to India's candidacy when the NSG plenary had taken up its application in Seoul in July.
(With PTI inputs)