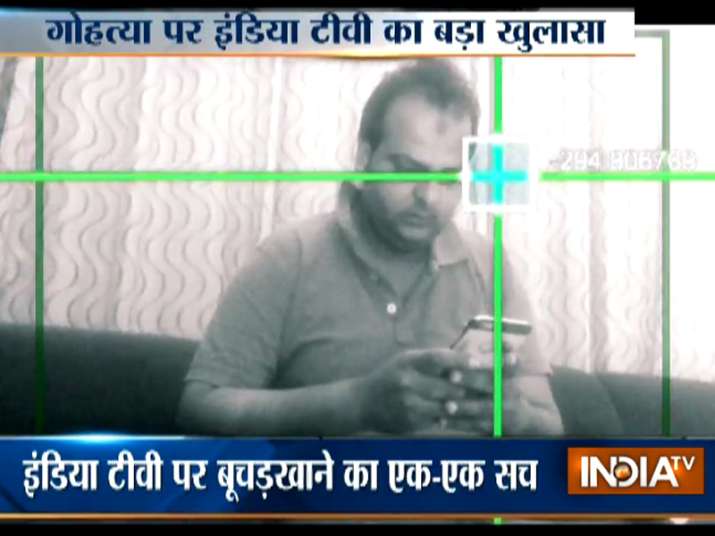 In major sting operations carried out by India TV's undercover reporters, two prominent licensed meat exporters in western Uttar Pradesh have been exposed on camera agreeing to supply beef with buffalo meat for export to Gulf countries.
In the first sting operation carried out in Hapur, a major buffalo meat exporter having a licensed abbattoir, offered to add cow meat with that of buffalo in containers meant for export to Gulf countries. 
The India TV undercover reporter, posing as a commission agent for a meat exporter, approached the trader Waqil Qureshi, and his partner Faizal Khan, who claimed to be a partner of Goa Sheep Casing, a Margao-based meat exporting firm.
Each buffalo meat export container carries 28 tonnes of meat, and Qureshi offered, on hidden camera, to supply 70 per cent cow meat (beef) in cartons alongwith 30 per cent buffalo meat. The container would have been labelled as buffalo meat meant for export.
Initially, Faizal Khan expressed inability to supply beef alongwith buff (buffalo meat) to "new parties" (customers), but his partner Qureshi said, beef could be mixed with buff after "setting" (means connivance with officials).
When India TV undercover reporter pointed out that slaughter and sale of beef was banned in UP, Qureshi replied: "Kitna bhi ban kar rakha hai, sab pahunch jayega, Aap tension mat lo, Jahan ban hota hai, wahin kaam zyada hota hai". (Don't take tension, wherever there is a ban, the trade goes on better)
In the second sting operation conduced against Liaqat Ali, proprietor of a STAR rated buffalo meat exporting company Al-Hind Exports, based in Meerut, the latter promptly agreed to supply beef for export. 
When India TV undercover reporter asked Liaqat Ali how his firm would export beef, now that it has been banned, Ali replied: "In the form of Frozen, boneless, buffalo..Indian halal..Frozen..Boneless buffalo".
Reporter: You mean cow meat is hidden inside buffalo meat?
Liaqat Ali- Yes, once you declare, no worry.
Liaqat Ali claimed that India not only supplied more beef than Pakistan to Gulf countries, but it also exported beef to Pakistan, "India is fulfilling Pakistan's beef requirements", he added.
Meanwhile, the Uttar Pradesh government has warned of stern action against those indulging in slaughter of cows.
"Have patience, cow slaughtering is banned in Uttar Pradesh, the law was framed by the BJP government when it was in power in the state," Deputy CM Keshav Prasad Maurya said today.
"The government will certainly take action if we receive any complaint," he added.
Cows, considered sacred by Hindus, have been at the centre of debate in the country for a long time. The BJP government's crackdown on illegal slaughterhouses and meat shops in Uttar Pradesh has once again stirred the debate.
India, being a union of states has different laws for cow and cattle slaughter in different states. While some states have completely banned slaughter of cattle including bulls, bullocks and buffalo, some haven't even banned cow slaughter.
In total, there are eight states and union territories where cow slaughter and sale of its meat is legal, two states where slaughter is conditional and sale is legal. Other 26 states and union territories in India have banned cow slaughter.