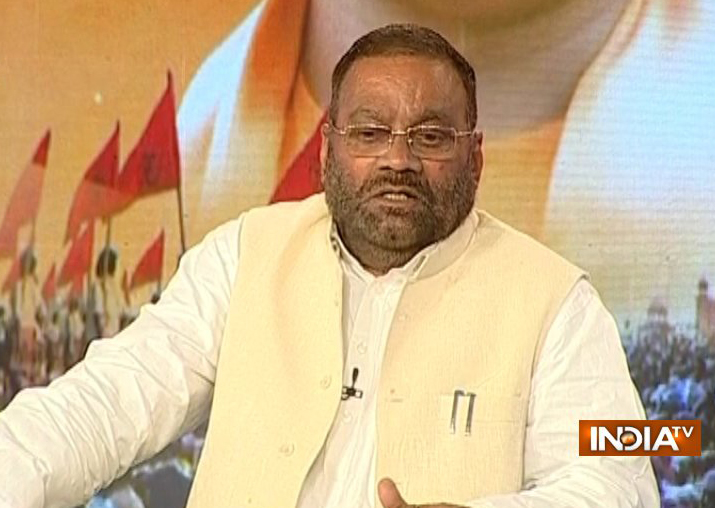 Uttar Pradesh Minister Swami Prasad Maurya and Congress leader Jitin Prasad today fired salvo at each other over a wide range of issues including the law and order situation in the state and jobs creation.
At India TV's Samvaad Conclave in Lucknow, organised to assess the Yogi Adityanath government's performance in last 1 year, Maurya said that under CM Yogi's leadership, the state has moved forward on the path of development. 
He noted that the farmers' prosperity is the priority of the government and that loan of 86 lakh farmers have been waived off. 
"He (Yogi Adityanath) is working on the agenda of 'sabka sath sabka vikas'… We all are well aware of the fact that when farmers progress, the country will develop," he said.
We are working for the farmers on priority: #BJP's #SwamiPrasadMaurya on #IndiaTVSamvaad pic.twitter.com/vOaljOUriO

— India TV (@indiatvnews) March 13, 2018
Jitin Prasad, another speaker on the panel, said that the BJP should present the account of its promises that have been fulfilled. He said that the saffron party has not fulfilled any of its commitments.
He also attacked the government over the present state of banks in the country.
"Farmers are unable to fulfil the compliances for loan waiver," Jitin Prasad argued.
Replying to a question on jobs, Maurya said that the recently held Investors Summit in Lucknow will prove to be beneficial for the state in coming years and that 30 lakh jobs will be created.
"This government has fulfiled its promises that were made in the sankalp patra (manifesto)," he said.
"With the help Investors Summit, government will be able to create 30 lakh jobs. Investors Summit will be beneficial for the state in coming years," he added.
Countering him, Jitin Prasad said that the government has failed to fullfil its promise of providing 2 crore jobs.
"Four years have passed, where are the 2 crore jobs?" questioned Jitin Prasad, accusing the government of presenting wrong facts and speaking blatant lies.
#BJP had promised employment to 2 crore people within 5 years, I would want to remind them that 4 years have already passed: #Congress' @JitinPrasada on #IndiaTVSamvaad pic.twitter.com/UkE3KnD0Eo

— India TV (@indiatvnews) March 13, 2018
Maurya, who has been entrusted with Labour portfolio, immediately sought to clean the air, saying, "We are working to provide jobs to 70 lakh youths in 5 years." 
"It is a fact that the people of the country have chosen Modiji as the Prime Minister of the country and they are still choosing him in the various state elections," he noted.
Maurya also took the opportunity to assure that promises on jobs will be fulfilled. 
"The schemes that are launched by the Modi government will surely create more than 2 crore jobs," he said.
Further, Jitin Prasad said that all schemes that are being launched, are of the erstwhile Congress government. He also asked Maurya to tell which scheme has been successfully rolled out. 
When asked about the alliance between Akhliesh Yadav and Mayawati for Lok Sabha by-polls in Gorakhpur and Phulpur, Maura said: "The friendship between babua (Akhilesh) and bua (Mayawati) for the bypolls is a compulsion. The alliance will be failed."
On law and order situation in Uttar Pradesh, Maurya said, "The government constituted anti-romeo squads, identified land mafias and took actions against them. We have managed to check the law and order situation and restore peace. Criminals have been encountered." 
On Naresh Agrawal's induction in BJP, Maurya said, "Naresh Agrawalji is now a part of BJP and will ensure he practices the ideology which we follow."
Watch video: Swami Prasad Maurya and Jitin Prasad at India TV Samvaad