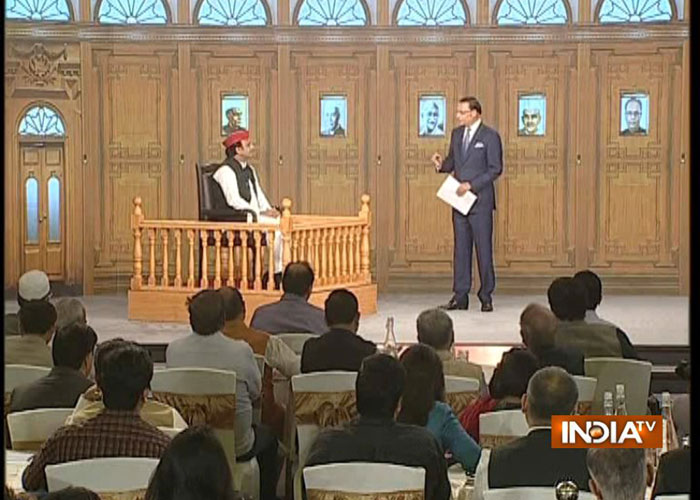 Samajwadi Party supremo Akhilesh Yadav on Tuesday said that 'unholy alliance' is one term that has been given by the people on Samajwadi Party-Bahujan Samaj Party (BSP) alliance. The former Uttar Pradesh chief minister, who was speaking at the India TV Samvaad in Uttar Pradesh's Lucknow, even asked as to why other parties are worried about his party's alliance with Mayawati-led Bahujan Samaj Party.
Yadav added that elections are not near as of now and his party is satisfied and the two parties haven't decided to sit together yet.
Hitting out at the Bharatiya Janata Party, Akhilesh said there is not a single party in the country that has not been divided by the Bharatiya Janata Party (BJP). Yadav added that 'Cycle' is one party symbol that can carry people with itself as it moves forward with pace.
TOP 10 THINGS THAT THE SAMAJWADI PARTY SUPREMO SAID AT INDIA TV SAMVAAD:
1. I may be Samajwadi Party chief, but the party still belongs to Netaji.
2. We are no one to decide if Ram Mandir should be constructed in Ayodhya or not, it is for the Supreme Court to decide. But BJP is not ready to even follow the directions of the Supreme Court.
3. I'm an Indian who celebrates all festivals and participate in all religious celebrations, be it for Hindu or for Muslims.
4. Bharatiya Janata Party (BJP) is one political party that does not like the word 'Samajwadi', but it does not matter to us.
5. BJP is just making an effort to link everything to Aadhaar.
6. No developmental work going on in Uttar Pradesh, this is the only change that I have noticed in the state.
7. I'm a religious person but I'm not superstitious.
8. BJP is not generating employment, instead they are snatching away jobs of the people.
9. As per records, criminal activities are on the rise under the BJP governance in Uttar Pradesh.
10. Will BJP ban cow slaughtering in Tripura? There are states that are provided with a license for the same, BJP is only misleading people.