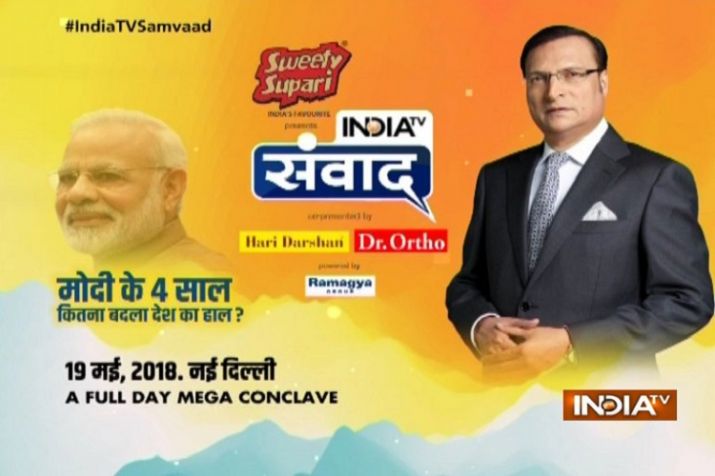 India TV is once again organising a day-long mega conclave SAMVAAD on May 19 that will question the representatives of the Narendra Modi government to bring to fore the facts that matter to the masses in general and to specific strata of the businesses, society or nation in particular.
The Narendra Modi government will complete four years in office on May 26, 2018.
The day-long event will strive to measure the Modi government's performance in last four years in comparison to the  promises that the BJP made in its 2014 manifesto.
India TV Samvaad will also aim to highlight the agenda and expectations for Modi government's remaining term of one- year.
An impressive gathering of high profile delegates including top Corporate honchos, Media personalities and other Newsmakers from across the country shall add a most anticipated layer for the avid political watchers & analysts through this initiative. 
The political bigwigs who are likely to attend the event are- Rajnath Singh, Mukhtar Abbas Naqvi, Suresh Prabhu, Ram Vilas Paswan, Ravi Shankar Prasad, Dr Mahesh Sharma, Manish Tewari, Raj Babbar, Prithviraj Chavan, RPN Singh etc.
Stay tuned and watch this space for more updates on India TV Samvaad on 4 years of Narendra Modi government.
Watch video: IndiaTV Samvaad on 4 years of Modi govt