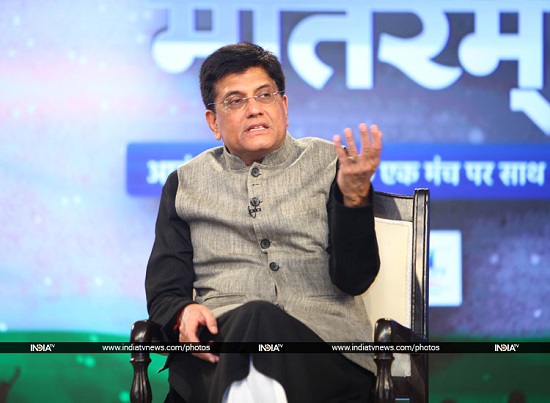 Railway Minister Piyush Goyal today called for political consensus on removing Article 370 that grants special status to Jammu & Kashmir in the Constitution of India.
Replying to questions at the day long India TV conclave on terrorism here, Goyal said: "Article 370 must go. It has been our party's stand that there should be uniformity in laws across the country. Our founder Late Shyamaprasad Mookerji gave his life while protesting against the 'permit system' for entering Kashmir." 
He added: "Article 370 cannot be withdrawn unless there is a political consensus and unless the J&K government agrees. We have to work towards such a consensus seriously and take all sections along with us. I think it is essential that there should be general consensus on this across India. Complicating one issue with another will not be in the national interest. We will have to take a serious and balanced view and focus on a considered decision at the right time."
Asked whether a democratic government in Pakistan would be in India's interest, the Union Minister said: "We want peace, democracy and political stability (in Pakistan). But this is their domestic issue. India will never interfere in their domestic issues. But we have noticed that in the last several years, the democratic government has not been able to establish its supremacy (over the army). I don't think India will have to play a role in this."
Asked to comment on the use of words like "weak" and "scared" for Prime Minister Narendra Modi by Congress President Rahul Gandhi, Piyush Goyal said: " If somebody has used such words for Modi Ji, he is being silly (naasamajh). The army knows that if any leader has shored up its morale, it is Narendra Modi. Congress was in power in 2008, but why did it not order the armed forces to carry out strikes against Pakistan (after Mumbai terror attacks). For three days, the people of Mumbai suffered. When a government does not take action, the man on the street gets angry. I think the Congress government only made announcements, whereas Modi government believes in action."
Without naming Rahul Gandhi, Goyal said: "We have seen on TV how a leader was reading messages on his cellphone, when the nation was paying its respects in front of the coffins of our martyred CRPF jawans at Palam airport. There is nothing more shameful than this."
FULL VIDEO: