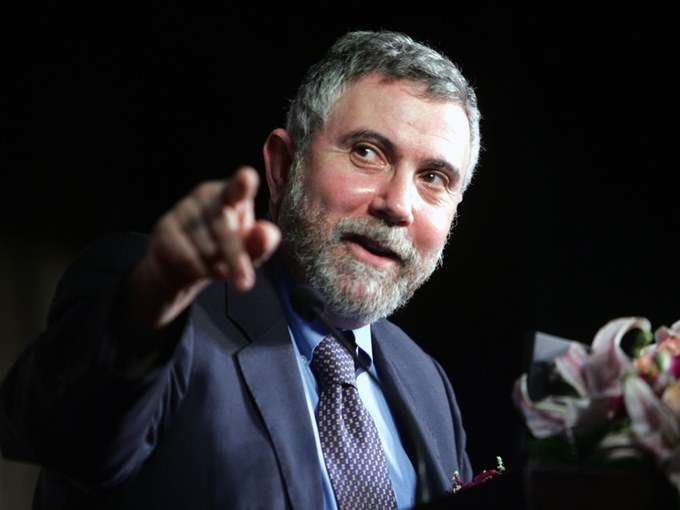 American Nobel laureate and economist Paul Krugman on Friday described India's recent demonetisation move as being "unusual", saying PM Narendra Modi's November 8 decision to scrap high-denomination banknotes appeared to be a highly disruptive way to deal with illicit hordes of cash.
Krugman added that he found it hard to see "significant gains" accruing from the demonetisation measure.
"Unusual would be the word to describe to describe it," Krugman said in reply to a query at the Hindustan Times Summit here. 
"Seems like a highly disruptive way to deal with the problem of illicit hordes of cash, though it is not clear what significant long terms gains will come of it," he said. 
Krugman, however, said there was a good case to be made that high denomination banknotes did not serve any legitimate purpose. 
"There is really a good case that high-value notes are a bad thing in a modern economy and serves no legitimate purpose," he said.
"But that did not happen here. High-value notes are not being eliminated. This seems like a one-off attempt to flush out illicit cash," the economist said of the India's decision to demonetise Rs 500 and Rs 1,000 notes.
He said that "after a year", things would return to being the same with people finding other ways of accumulating unaccounted wealth.
"There could be some permanent change in behaviour. People will be more careful and sophisticated in laundering their money in the future," he said.
In this case, Krugman said that from his "pessimist" point of view the roots of the problem of black money were spread deeper and, therefore, difficult to eliminate.
"A relatively low income economy is not going to be a place where much income tax is collected," he said. 
In fact, in a lot of advanced countries there are significant levels of tax evasion," he added.
Krugman pointed to America's superior record in the area of tax collection, but said the situation could change in the US with Donald Trump as president.
"Trying to have an OECD (Orgaisation for Economic Cooperation and Development) type tax system in a low income setup is not a very viable proposition," he said.
Meanwhile, PM Modi early today said that he was happy that people in India were "bearing temporary difficulties for long-term gain" after demonetisation.
"I am happy to see that the people of India are bearing temporary difficulties for the long-term gain of the nation," Modi wrote in an article posted on Linkedin.com.
"In the 21st century India, there is no place for corruption. Corruption slows down growth and takes a toll on the dreams of the poor, neo-middle class and middle class," he said.
The Prime Minister urged people to switch over to mobile banking and mobile wallets to root out corruption.
"I urge all of you, particularly my young friends, to lead the change and inspire others to turn towards cashless transactions. This will set the strong foundations of an India where there is no place for corruption and black money," he said.
"Large volumes of liquid cash are a big source of corruption and black money," Modi added.
Terming the government's November 8 demonetisation a "unique opportunity", he said the trading community had got a historic chance to upgrade themselves and embrace more technology which, he claimed, will bring greater prosperity.
"When I made the demonetisation announcement on November 8, I was aware that the people of India will face inconvenience. But I requested the people to bear this short-term pain for long-term gain," the Prime Minister wrote.
"Today, we live in an era of mobile banking and mobile wallets. Ordering food, buying and selling furniture, ordering a taxi... all of this, and lot more, is possible through your mobiles. Technology has brought speed and convenience in our lives," Modi said.
(With IANS inputs)