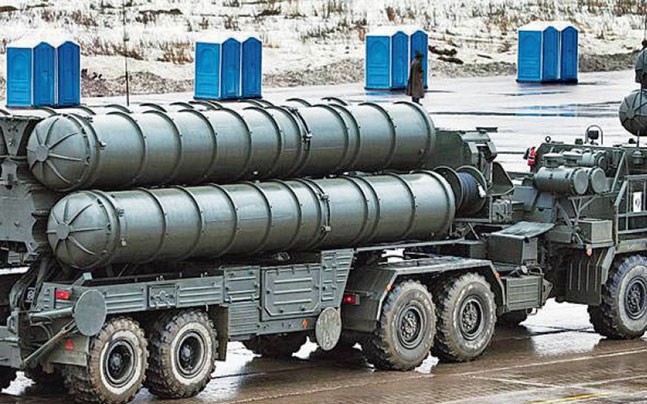 India is in advanced talks with Russia to ink a Rs 40,000-crore deal for procuring S-400 Triumf air defence missile systems for the Indian armed forces, according to media reports. 
The deal which initially began two years ago has been facing roadblocks mainly due to differences over pricing.
India wants to procure the long-range missile systems to tighten its air defence mechanism, particularly when China has been ramping up its military maneuvering along the nearly 4,000 km long Sino-India border.
The S-400 systems are capable of intercepting and destroying airborne threats at a distance of up to 250 miles and can simultaneously engage up to six targets. Each S-400 comprises tracking and search radar systems, eight launchers, 112 guided missiles, and command and support vehicles. 
The deal is expected be inked during Prime Minister Narendra Modi and Russian President Vladimir Putin's meet in New Delhi this October.
The contract was expected to be signed during Defence Minister Nirmala Sitharaman's ongoing trip to Moscow. 
Sitharaman held extensive talks with her Russian counterpart General Sergey Shoygu and Industry and Trade Minister Denis Manturov in Moscow during which both sides decided to expedite negotiations for various military platforms soon.
Defence ministry officials here said that during the talks, both sides also agreed to further ramp up bilateral defence cooperation.
Sitharaman is on a three-day visit to Russia to attend the VII Moscow Conference on International Security.
Russia has been one of India's key suppliers of arms and ammunition. However, it has been a long-standing grievance of the armed forces that supply of critical spares and equipment from Russia takes a long time affecting maintenance of military systems procured from that country. 
India has been pressing Russia to adopt a liberal approach in sharing technology for components of major defence platforms as it was critical to keep them in operational readiness. Majority of India's weapon systems are of Russian origin.
The issue is understood to have figured during Sitharaman's talks with both General Shoygu and Manturov. 
Both sides agreed to expedite negotiations for various military platforms, the sources said.
The two countries are also expected to finalise a number of other deals, including four more Krivak/Talwar class stealth frigates. 
Sitharaman also discussed with Russia latter's assistance for speeding up the Indigenous Aircraft Carrier-I (Vikrant) project and joint manufacturing of spares for Russian-origin military equipment.