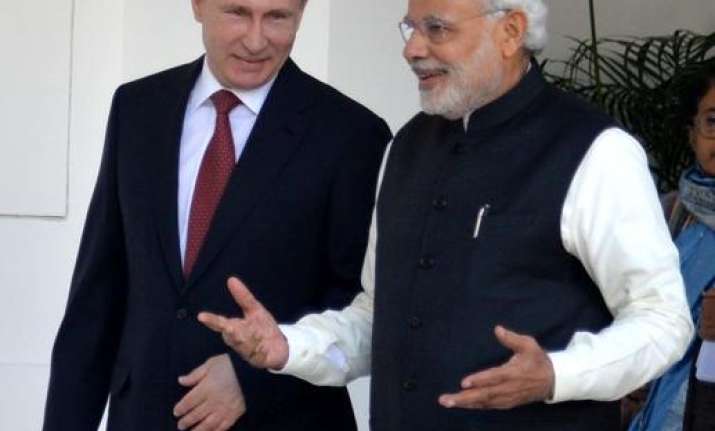 India is all set to sign a deal with Russia for setting up units 5 and 6 of the Kudankulam Nuclear Power Project (KNPP) and an announcement could be made after the talks between Prime Minister Narendra Modi and Russian President Vladimir Putin on the sidelines of BRICS Summit starting in Goa today, Russian sources said.
An official of the Russian atomic energy corporation Rosatom, the builders of KNPP, told a news agency on Friday that negotiations for units 5 and 6 had been expedited so that an announcement could be made during the BRICS (Brazil, Russia, India, China, South Africa) leaders summit in Goa on October 15-16.
The first unit of the Kudankulam Nuclear was dedicated to the nation on August 10 jointly by Modi and Putin, who had participated at the ceremony from Moscow through video-conferencing.
The second unit at Kudankulam went critical later in August, when the stage of physical start-up was completed successfully, and it is expected to be commissioned later this year.
According to KNPP site Director R.S. Sundar, Unit 1 has so far generated 10,900 million units of electricity since its synchronisation with the Southern Grid following the reactor's criticality on July 13, 2013.
On the day of dedicating Unit 1 to the nation, Modi said five more 1,000 MW units would be built at Kudankulam with Russian partnership.
The ground-breaking ceremony for the construction of units 3 and 4 was performed earlier this year.
In this connection, Russia has offered India a new range of reactor units -- the VVER-Toi (typical optimised, enhanced information) design -- for the third and fourth units.
An agreement between India and Russia was signed in December 2008 for setting up Kudankulam's units 3 to 6.
(With IANS Inputs)