Follow us on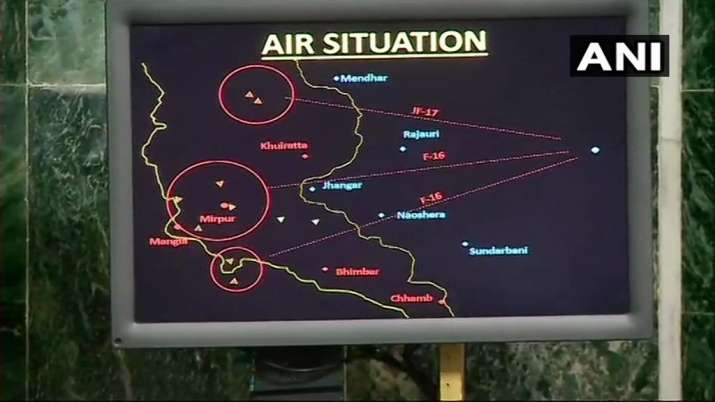 The Indian Air Force (IAF) has irrefutable evidence of not only the fact that the F-16 fighter jet was used by Pakistan Air Force on February 27, 2019 but also that IAF MiG-21 Bison shot it down, Air Vice Marshal RGK Kapoor told the media on Monday.
Pakistan had earlier said that Islamabad retained the right to use "anything and everything" in its self-defence, while not entirely admitting that the country's Air Force had used F-16 fighter jets against India in the February 27 aerial combat. 
Radar images of an air battle between IAF pilot Abhinandan Varthaman and a Pakistani jet -- AWACS (Airborne Warning And Control System) radar images -- were shown by the air force as the proof, on Monday.
Also read | Pak F-16 shot down during Feb 27 dogfight, asserts IAF; rejects US magazine report
"There is no doubt that two aircraft went down in the aerial engagement on February 27, 2019 -- one of which was the bison of IAF while the other was F-16 of Pakistan Air Force conclusively identified by its electronic signature and radio transcripts," the IAF said, in a statement.
Air Vice Marshal RGK Kapoor further said India had more credible evidence that was clearly indicative of the fact that Pakistan had lost one F-16.
"Due to security and confidentiality concerns, we are restricting the information being shared in the public domain," he said.
The IAF on February 26 struck Jaish-e-Mohammed (JeM) terror camp in Pakistan's Balakot. 
The Balakot airstrike came in retaliation to the February 14 Pulwama terror attack.
Pakistan-based terror group Jaish-e-Mohammed took the responsibility of the attack --  which had killed 40 CRPF personnel in Pulwama, Jammu and Kashmir.
Also read | India TV Exclusive: Full truth behind IAF airstrike on Balakot terror camp in Pakistan
Pakistan, however, maintained it was not part of the airstrike -- despite India producing valid proof of the US-manifactured F-16s.
In its turn, Pakistan gave evidence of one Indian MiG-21 being brought down. This had led to the capture of Wing Commander Abhinandan Varthaman.
Abhinandan was later released -- on March 1 -- as a goodwill gesture by Pakistan Prime Minister Imran Khan.
The media conference by the IAF came in the backdrop of an American news publication contradicting India's claims. 
The publication quoted an unnamed US defence official as saying that its personnel had recently counted Islamabad's F-16 fighters jets and found none missing.
Also read | NDA seat count post IAF air strike sees significant gains: India TV-CNX Opinion Poll
Watch video: