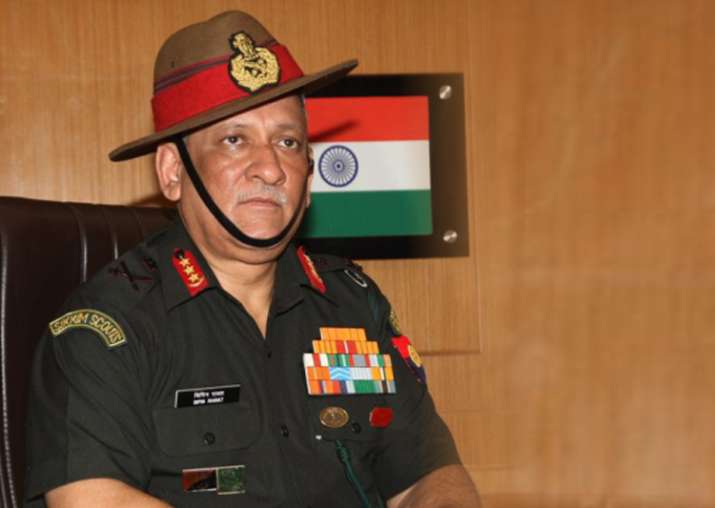 Indian Army Chief General Bipin Rawat today said that despite having credible nuclear deterrence capabilities, India cannot rule out the possibility of a two-front war with China and Pakistan. The Army Chief also said that differences with neighbouring Pakistan appears to be 'irreconcilable' as the country continued to wage a proxy war against New Delhi.
About China, he said that "Beijing too will continue with its efforts to nibble away Indian territory through 'salami slicing' and other measures".
Referring to the 73-day long Dokalam standoff in the Sikkim sector, the Army Chief warned that the situation could gradually snowball into a larger conflict on the northern border. He said that there is a possibility that these conflicts could be limited in space and time or can expand into an all-out war along the entire frontier, with Pakistan taking advantage of the situation. 
"As far as the northern adversary (China) is concerned, the flexing of muscles has started... Salami slicing, taking over territory in a very gradual manner, testing our limits of threshold... is something we have to be wary about and remain prepared for situations that could develop into conflicts," he said while speaking at a seminar organised by the Centre for Land Warfare Studies. 
In military parlance salami slicing denotes divide and conquer process of threats and alliances used to overcome opposition. 
"We have to be prepared. In our context, therefore, warfare lies within the realm of reality," he said, adding the Army's supremacy among the three services must be maintained to successfully combat external security threats. 
The comments by Gen. Rawat came a day after Prime Minister Narendra Modi and Chinese President Xi Jinping agreed on a "forward-looking" approach to Sino-India ties, putting behind the Dokalam standoff. 
The Army Chief also talked about China engaging in a psychological warfare by using the media and information technology against India during the Dokalam face-off. 
The Army Chief rejected the notion that credible deterrence could prevent war and pitched for adequate budgetary allocation for the armed forces. 
Talking about Pakistan, Gen. Rawat said there was no scope for any reconciliation with that country. "As far as our western adversary is considered, we don't see any scope of reconciliation, because their military, the polity, and the people in that nation have been made to believe that there is an adversary, India, which is all out to break their nation into pieces," he said. 
Gen. Rawat also wondered how long the country will continue to tolerate the proxy war by Pakistan and when it would conclude that Pakistan has crossed the threshold limit, adding the scope of a possible conflict is difficult to predict. He said it was for the political masters to take a call on the issue. 
Rawat also explained that credible deterrence does not take away the threat of war. 
"Nuclear weapons are weapons of deterrence. Yes, they are. But to say that they can deter war or they will not allow nations to go to war, in our context that may also not be true," he said.