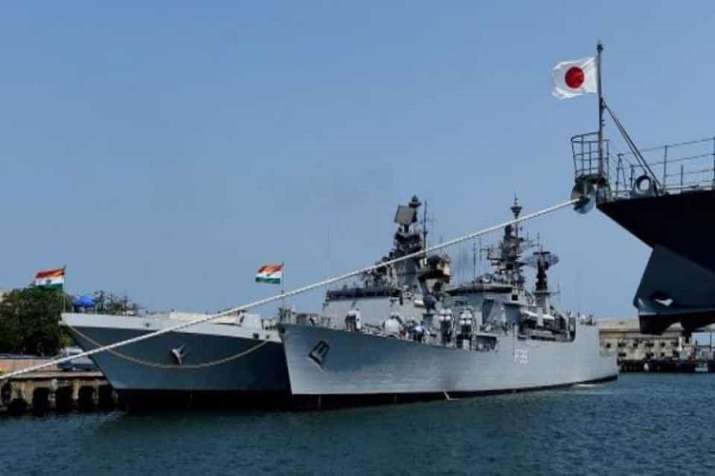 Bilateral maritime exercise JIMEX-18 between India and Japan commenced in Visakhapatnam on Sunday, which was marked by Japanese Maritime Self Defence Force (JMSDF) ships Kaga, an Izumo-class helicopter destroyer, and Inazuma, a guided missile destroyer. The third edition of JIMEX will witness the participation of the Japanese ships, under the command of Rear Admiral Tatsuya Fukada, commander of Escort Flotilla-4 (CCF-4).
The Indian Navy would be represented by three indigenously-designed warships and a fleet tanker.
The participating ships include INS Satpura, a multi-purpose stealth frigate, INS Kadmatt, an anti-submarine warfare corvette, missile corvette and INS Shakti, the fleet tanker.
According to the Navy, one submarine, P8I long range maritime patrol aircraft and a number of integral helicopters would also be participating in the exercise.
Inter-operability, understanding and imbibing the best practices of each other would be enhanced through the nine-day event, a Navy release said.
The Indian ships would be commanded by Rear Admiral Dinesh K Tripathi, Flag Officer Commanding, Eastern Fleet.
JIMEX-18 will comprise a harbour phase and a sea phase of four days each.
Scheduled from October 7 to 10, the harbour phase of the exercise will see the inclusion of professional and social interactions between the crews of ships, sports fixtures and operational planning for the sea phase.
The sea phase would include anti-submarine warfare exercises, visit, board, search and seizure (VBSS) drills, gun firings, cross deck helo operations and coordinated operations in anti-submarine and anti-air threat scenarios.
The last edition of JIMEX was held in December 2013 off the Chennai coast.
The conduct of JIMEX-18 after five years is indicative of an upswing in the Indo-Japanese defence relations and the continued efforts of both governments to work closely to enhance safety and security of the global commons in keeping with 'rule-based order,' the Navy said.