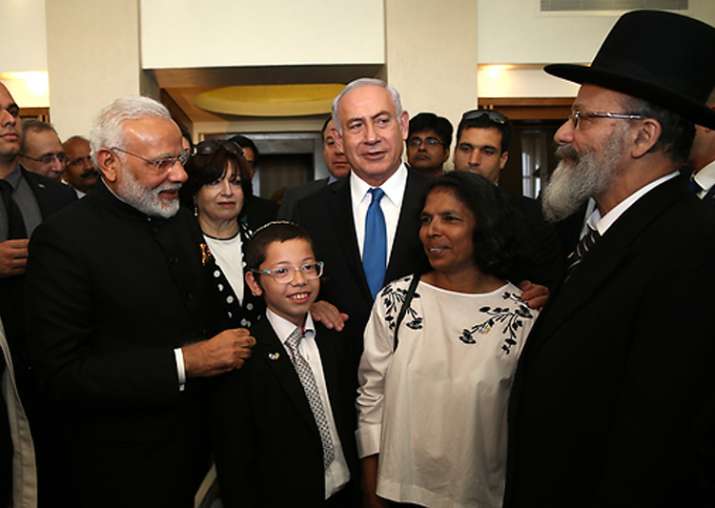 India today issued 10-year multiple entry visas to the young Israeli survivor of 2008 Mumbai terror attacks, Moshe Holtzberg and his grandparents, to ease their travel to the country.
Holtzberg, who is now 11 years old, had expressed his wish to visit Mumbai during an emotional meeting with Prime Minister Narendra Modi in Jerusalem on July 5 this year.
"I am very excited at this nice present from Prime Minister Modi. This is going to help me when I grow up," Moshe said on receiving the 10-year visa from an official at the Indian embassy.
The young boy in the past had said expressed his desire to live and work as Chabad emissary in Mumbai, a role his father was carrying out when he was killed in the Mumbai terror attack.
"I hope I will be able to visit Mumbai, and when I get older, live there. I will be the director of our Chabad House," Moshe had told the Prime Minister who embraced the young boy on seeing him.
"With God's help, this is my answer," the boy had said reading from a prepared script concluding, "I love you and your people in India."
Modi had responded by saying, "Come and stay in India and Mumbai. You are most welcome. You and your all family members will get long-term visas. So you can come anytime and go anywhere."
Moshe's grandfather Rabbi Shimon Rosenberg, confirmed that they have been issued long-term visas to "help them travel to India whenever they wish, as per the promise made by Prime Minister Modi".
"It is such an honour. I have no words to describe the feeling. The Indian Prime Minister promised us long-term visas for the whole family and he has followed up on it. We are thrilled. We love India and would look forward to visiting soon," Rosenberg said.
Israel's Prime Minister Benjamin Netanyahu has asked Moshe to join him when he travels to India. 
Rosenberg had earlier said that the family wishes to celebrate Moshe's 'bar mitzvah', a ceremony performed for Jewish boys at the age of 13 which some Israeli scholars compare with upnayana, or the thread ceremony, in Mumbai for which he would invite Modi.
Moshe's parents, Rabbi Gavriel and Rivka Holtzberg, were killed along with six others at the Nariman House, also referred to as Chabad House, which also came under attack in November 2008 by Pakistani Lashkar-e-Taiba (LeT) terrorists.
The boy, then a two-year-old toddler, was saved in a daring move by his Indian nanny Sandra Samuels, who ignored her own safety and rushed inside the Nariman House to rescue him after hearing him cry.
Samuels now lives in Israel and has been felicitated with an honorary citizenship by the by the Government of Israel so that she could live in the country and be with Moshe.