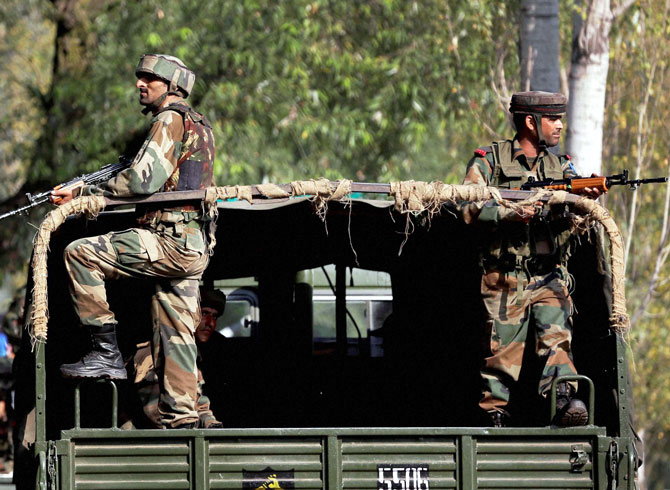 Indian army carried out surgical strike at terror camps across the Line of Control in Pakistan occupied Kashmir on Wednesday night, the Defence Ministry said on Thursday. The Indian Army's operations are believed to have neutralised 30-35 militants at terror camps.
Tension between India and Pakistan are on all time high after four terrorists had stormed an Army camp in Uri on September 18 and killed 18 soldiers. 
India had till now maintanied strategic restraint and upped the diplomatic offensive to corner Pakistan in international arena for promoting terrorism. 
Here are the key highlights
1) The Indian Army started its operations at 00:30 hours operation which continued for one and a half hours.
2)  Special commandos crossed the LoC, went three kms inside PoK territory and seven terror launch pads were targeted.
3) Terror camps were destroyed in Bhimber, Kel and Lipa sector of Pakistan occupied Kashmir.
4) Significant casualties have been inflicted on terrorists and those trying to shield them. Initial reports say, around 35 terrorists have been killed.
5) No casualties happened on Indian side during surgical strikes that were carried out in Pakistani territory last night by the Indian Army.
6) Entire operation was monitored at army headquarter in New Delhi, Defence Minister Manohar Parrikar, Army chief General Dalbir Singh Suhag, National Security Advisor Ajit Doval were present.
7) India army shared the details of the surgical strikes with Pakistan DGMO. Pakistan was told that the strikes were carried out based on specific and credible information.
8) Indian army also said that India has no intention to conduct another surgical strike in Pakistan.
 9) President, Vice President, Former PM Manmohan Singh, J&K Governor, CM J&K briefed on the surgical strikes by the Indian Army.
 10) PM Narendra Modi on Thursday chaired a meeting of the Cabinet Committee on Security (CCS) to review the situation along the LoC.
Punjab Police have put the border villages on high alert, village dispensary(patients and staff) of Chakra Marara, near Gurdaspur have been asked to be prepared for evacuation.
 Meanwhile, Pakistan has dismissed reports of surgical attack by India. 
"The notion of surgical strike linked to alleged terrorists bases is an illusion being deliberately generated by Indian to create false effects," the Pak military said in a statement.
"This quest by Indian establishment to create media hype by rebranding cross border fire as surgical strike is fabrication of truth. Pakistan has made it clear that if there is a surgical strike on Pakistani soil, same will be strongly responded."
At least two Army men were killed as Indian and Pakistani troops exchanged fire over the Line of Control in "Azad Jammu and Kashmir", Pak army said.