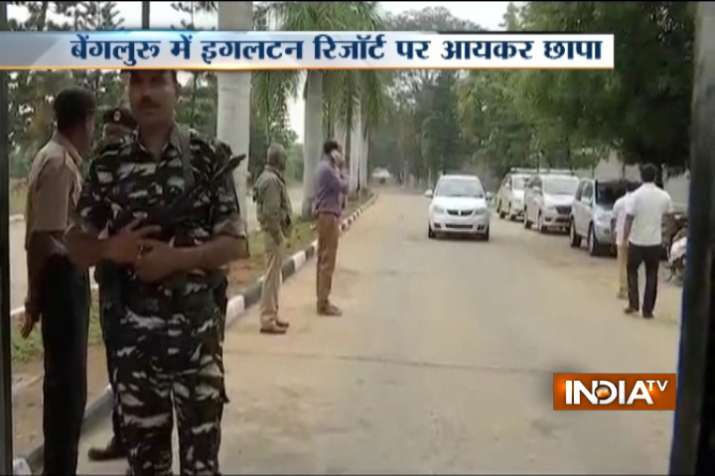 Income Tax department officials today carried out search operations at 39 locations related to Karnataka Energy minister D K Shivakumar who has been given the responsibility of looking after over 40 Gujarat Congress MLAs staying at the Eagleton Golf Resort. 
I-T officials also visited the Eagleton Golf Resort where the minister was staying with Gujarat Congress MLAs.
The Karnataka wing of the Income Tax department has clarified in a press release that the search operations are being carrying out only at the locations of DK Shivkumar.
It also added that even at the Eagleton Golf Resort, the Minister's room alone is being searched and that the search team has no concern with the MLAs staying at the resort.
The press release further added that  there has been no contact with MLAs  and the search team. It also clarified that the search operations are the continuation of an investigation which has been in progress for a considerable period of time. It also added that the timing of the search was decided well in advance. 
A raid was also being conducted at the house of Congress lawmaker N. Ravi in Bengaluru's southern suburb.
Meanwhile, IT officials have claimed that Rs five crore cash has been recovered from the Delhi residence of Karnataka minister D K Shivakumar, PTI reported.
Rattled by the desertion of its six MLAs, the Gujarat Congress  has shifted over 40 of them to the Eagleton Golf Resort to keep its flock together ahead of the Rajya Sabha poll.
The Congress had 57 MLAs in the 182-member Assembly. Of these, six have quit since Thursday, brining down its strength to 51. Patel will require 44 first preference votes for a straight win.
The ruling BJP has fielded party president Amit Shah and union minister Smriti Irani for two out of three vacant RS seats from Gujarat . For the third seat, the party has fielded Balwantsinh Rajput who will lock horns with Ahmed Patel.
After raids on locations related to the Karnataka minister, the Congress has accused the BJP of indulging in "political vendetta".
 
Lashing out at the BJP, senior Congress leader Mallikarjuna Kharge said: "It's political vendetta. When the elections are going on then raids at their premises is not good."
Slamming the Bharatiya Janata Party (BJP), Congress spokesperson Randeep Singh Surjewala told media persons: "This is a very dirty trick of the BJP to win the Rajya Sabha seat from Gujarat."
"Earlier attempts were made to bribe the Gujarat Congress MLAs. And when everything failed, the frustrated BJP government was now resorting to IT raids on the Congress," Surjewala said.
Ahmed Patel also slammed the I-T raids on Karnataka Energy minister and accused the BJP of indulging in an "unprecedented witch-hunt" to win one Rajya Sabha seat
"BJP is on an unprecedented witch-hunt just to win one Rajya Sabha seat," Patel said in a tweet.