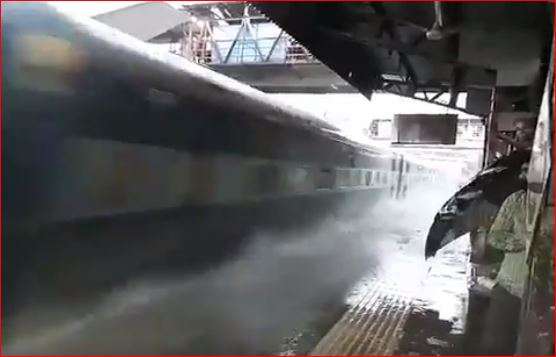 Heavy rains in the financial capital Mumbai in last couple of days not only affected the vehicular traffic but it also created huge problems at various railway stations in the city as well.
At Nala Sopara railway station, the railway track got submerged under rain water. Though it did not affect the speed of the trains passing through the station, the commuters present on the platform were drenched whenever a train zoomed past the station creating a burst of water from the tracks. 
As you can see in the video, whenever a train entered the platform, passengers ran for cover though they did not succeed and got soaked in muddy rain water. This video was shot by a passenger on his mobile phone.
According to the BMC, Mumbai on Wednesday recorded 11.63 mm of rainfall from 8 am to 1 pm. The eastern suburb recorded 27.38 mm of rains while the western suburb received 11.68 mm rainfall in the period, it added. 
The BMC said water logging was reported at several places, including Hindmata, Sion, Veera Desai Road, Air India Colony, Milan Subway, Andheri Subway, Bandra, Dahisar, Chembur and Mankhurd.