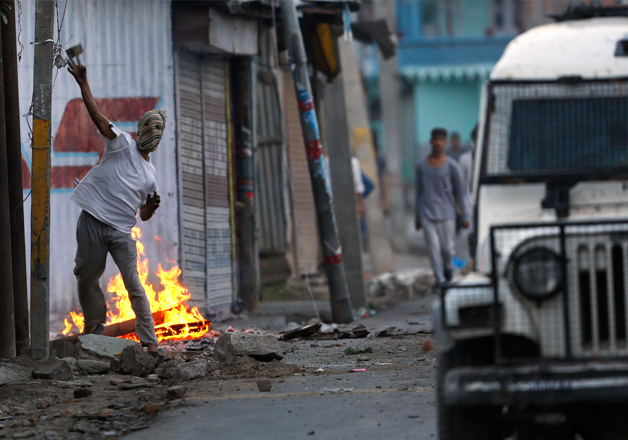 New Delhi: Observing a 'black day' over what it terms as 'atrocities' by Indian security forces following the killing of  Hizbul Mujahideen commander Burhan Wani, Pakistan, which is making a desperate attempt to garner global attention to the Kashmir issue, has ended up exposing itself.
Nawaz Sharif, the Prime Minister of the elected government in the country and Hafiz Saeed, India's most wanted terrorist and chief of militant organisation Jamaat-ud-Dawah (JuD) have almost spoken in the same voice.      
Pakistan is observing Wednesday (July 20) as "black day" to express solidarity with the people of Kashmir, which has been gripped by violence following the killing of Hizbul Mujahideen militant Burhan Wani.
This comes a day after Jamaat-ud-Dawah (JuD) chief Hafiz Saeed, in the first phase of the "Kashmir Caravan", marched towards Islamabad from Lahore. He has also vowed to march towards Kashmir in support of the Kashmiri people.
The aim, he said, was to "wake up members of the government" so that they "raise their voice for the rights of Kashmiris".
In the second phase, his caravan will travel to Muzaffarabad and Chakothi in PoK. And in the third phase, Saeed said that he will march into Kashmir and will continue marching till Kashmiris get freedom.
A glance at the stand of Pakistani Prime Minister Nawaz Sharif not only exposes the resemblance in his take with that of Saeed, a militant, that India has constantly accused Pakistan of harbouring, it also exposes what could be a lethal plot to target Kashmir ahead of the so-called elections in areas illegally occupied by Pakistan.
Much like Saeed, Sharif, while chairing a special cabinet meet on the situation in Kashmir arising out of the killing of Wani last Friday, dubbed Wani a 'martyr of the independence movement'.
"Pakistan would continue to extend moral, political and diplomatic support for Kashmiris in their just struggle for right to self-determination," Radio Pakistan quoted Sharif as saying.
"Indian brutalities will give impetus to the freedom struggle and Kashmiri people will get their right to self-determination for which the whole Pakistani nation is standing behind them. Seven hundred thousand Indian soldiers deployed in Occupied Kashmir could not suppress the struggle of Kashmiris," he added.
In the meeting in Islamabad, top government officials also condemned the labelling of Wani as a terrorist by the Indian government.
The irony that the stand of Pakistan's lawmakers shrieks of was on display in Pakistan's parliament a few days ago.
One of the most wanted terrorists and Hizbul supreme commander Syed Salahuddin was recently spotted in Pakistan's Parliament interacting with lawmakers, possibly discussing the Kashmir issue. According to IB inputs, the ISI had also held a meeting with Salahuddin and Saeed for illicit fund transfers and to appoint new 'commanders' to fan trouble in the Valley. The meeting was also attended by another JeM operative Abdul Rauf, who is based in PoK.
Officially, India too believes such happenings are far from a coincidence. "The self serving actions by Pakistan in the last few days to derive political mileage out of the recent developments in Jammu and Kashmir follow planned infiltration and terrorism aimed at India from across the Line of Control and the international boundary.
"The attempts in Pakistan by various players to ingratiate themselves to the people of Jammu and Kashmir in the run up to the so called elections in territories under Pakistan's illegal occupation will not succeed," spokesperson for the Ministry of External Affairs Vikas Swarup, said.
International segregation
Pakistan says the main motive behind organising "black day" is to draw the attention of world against the alleged human rights violation by Indian forces in the Valley. Government officials are today wearing black arm bands to work to express political, moral and diplomatic support to Kashmiris. Special prayers will also be held across Pakistan for "martyrs of Kashmir".
However, a look at the comments received by Pakistan on the international forum establishes its increasing desperation to woo countries who are rapidly siding against it.
India's Permanent Representative Syed Akbaruddin had last week sharply hit back at Pakistan at a high-level United Nations forum for misusing it to raise the Kashmir issue. Characterising Pakistan as a country that "uses terrorism as state policy" and one that masquerades its use of terrorism as its "support for human rights", he firmly dismissed Pakistan's attempt as not having any resonance in the international community.
Pakistan's envoy Maleeha Lodhi had raised the Kashmir issue at the debate on human rights earlier and called the killing of Wani an "extra-judicial killing".
45 people have died in large-scale violence in Kashmir following the death of Wani, 22, in a gunfight on July 8 along with two of his associates.
Meanwhile, asserting Kashmir was an internal matter of India, External Affairs Minister spokesperson Vikas Swarup said that 'India completely and unequivocally rejects in the entirety the decisions adopted by the Pakistan cabinet on situation in Jammu and Kashmir'.
Swarup had also said that Pakistan should desist from further interfering in India's internal affairs and "destabilising the situation in South Asia through support to terrorism and other subversive acts".
Saeed yesterday had said that Wani had talked to him just before he was killed in an encounter by the security forces. The revelation was made by the Saeed himself at a rally in Pakistan's Gujranwala on Tuesday.
Saeed disclosed that Burhan had called him over the phone and informed him about the operation he was working on.
"A few days before his martyrdom, Burhan Wani told me over the phone that it was his wish to talk to me. He told me that now his wish was fulfilled, he was waiting for martyrdom. A few days later news of his martyrdom came," Saeed said while addressing the crowd.
He added that Burhan was also in contact with Hizbul Mujahideen chief Syed Salahuddin and other commanders of Lashkar.
Since the death of Burhan, Saeed has held several rallies in his support. In a rally to eulogise Wani in Pakistan-Occupied Kashmir a week ago, Hafiz Saeed shared the stage with Sayeed Salahuddin, the leader of Hizbul Mujahideen of which Wani was a member.
Violent protests erupted in the Kashmir after Wani was killed in an encounter by the security forces earlier this month. The Valley has been under curfew since then. In clashes with security forces over the days, at least 45 civilians have lost their lives. Two policemen were also killed in the violence.