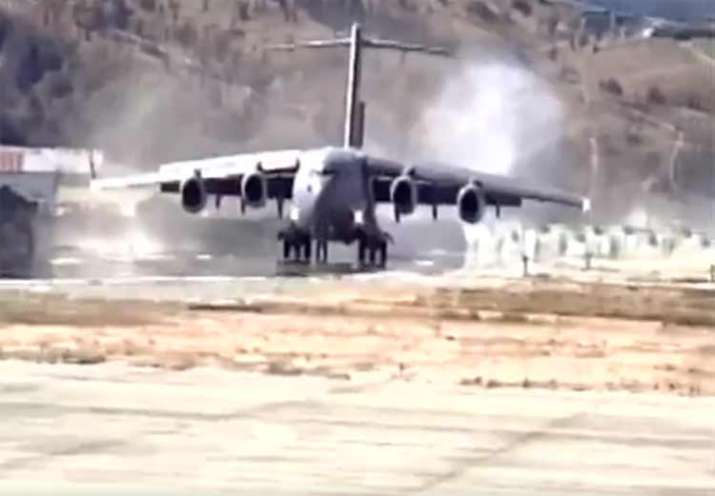 In a show-off of India's air prowess, Indian Air Force's mighty C-17 Globemaster aircraft on Thursday made its first landing at Mechuka Advanced Landing Ground in Arunachal Pradesh, just 29 km from India-China border.
The landing at an elevation of 6,200 ft with a landing surface only 4,200 ft long, the feat is a major boost to the country's rapid airlift capability in Arunachal Pradesh, validating aircraft's short field landing performance at high altitude.
The ALG at Mechuka in the Yargyap river valley of West Siang district of Arunachal Pradesh had been upgraded recently.
WATCH: Indian Air Force lands C-17 Globemaster at Mechuka (Arunachal Pradesh) at an elevation of 6200 feet pic.twitter.com/QZWQtw5QlV

— ANI (@ANI) November 3, 2016
Situated along the international border, Mechuka was one of the strategic locations during the India-China war in 1962.
The move comes amid the stand-off between Indian and Chinese troops along the Line of Actual Control (LAC) in Demchok sector of Leh district since yesterday afternoon. 
The Indian Army has, however, denied any Chinese incursion across LAC and said there were some issues relating to construction projects which were resolved in the border personnel meeting.
The IAF had started its operations with Dakota and Otter in 1962 in the area and subsequently the Antonov-32, popularly known as AN-32, was operated till October 2013 before the upgrade work was started. The road connectivity to the nearest air/rail head at Dibrugarh, about 500 km away, is generally two days of travel, unless the roads get damaged due to frequent landslides.
"This is a quantum jump from the existing capability of An-32 and C-130J aircraft. Such airlift capability facilitates speedy transfer of men and material in this rugged terrain, interspersed with valleys and high mountain ranges that inhibit road connectivity," a statement by the IAF said.
In the event of a disaster in the region, C-17 operations to the remote ALG can enhance the speed and quantum of national relief effort.
IAF has plans to validate airlift operations to and from various ALGs in the region that would usher in a new dimension in enhanced disaster response.
This trial landing is expected to pave the way for operation of civil flights operating to and from the newly upgraded ALGs, which has an enormous potential to boost tourism by improving connectivity to remote locations in the North East.