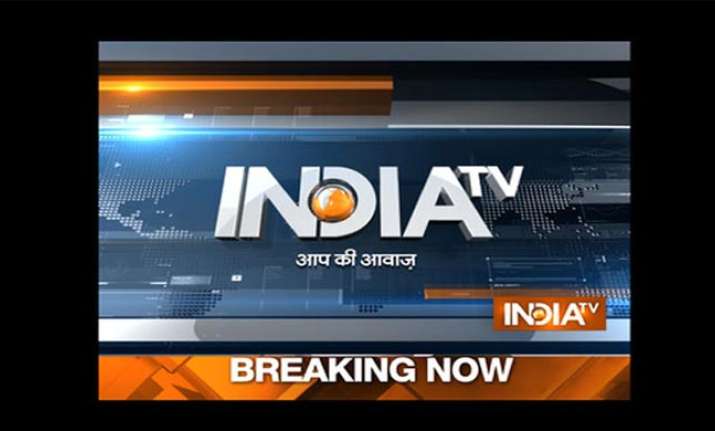 National News
Unlike previous governments, we are in 'mission mode' to expand aviation sector, says PM Modi
Eyeing spur growth and employment in the aviation sector, Prime Minister Narendra Modi today said his government has come out with the first integrated policy for the sector and is working in a "mission mode" for its expansion, as he accused all the previous governments of having "no vision" for aviation.
Top Samajwadi Party leaders meet Mulayam Singh, urge him to put an end to crisis within Yadav family
Top Samajwadi Party leaders today met Samajwadi Party chief Mulayam Singh Yadav here to chalk out a formula to end the ongoing crisis within the first family of the state that has derailed just ahead of the crucial assembly polls.
With Rs 5 crore 'atonement', Raj Thackeray allows release of 'Ae Dil Hai Mushkil' featuring Pak actor Fawad Khan
Raj Thackeray led Maharashtra Navnirman Sena (MNS) today allowed the release of Karan Johar's forthcoming film 'Ae Dil Hai Mushkil' but said that all producers who employed Pakistani artists must pay Rs 5 crore each into the Indian Army's welfare fund as an 'atonement'.
Born to fight, trained to kill: Indian Army team clinches gold in Britain's Cambrian Patrol exercise
With the recent accomplishment by a team of Gorkha Rifles, every nation in the world will come to know about the colossal strength of the Indian Army.
BJP MP Varun Gandhi rejects 'honey-trap and blackmail' charges in an open letter to people of India
In an open letter to people of India, BJP MP Varun Gandhi today rejected all charges levelled against him by the US-based whistleblower C Edmonds Allen.
International News
Pakistan worried over exposure of ISI's terror activities in Sri Lanka
Alarm bells have started ringing in Pakistani establishment after Sri Lankan media exposed how Inter-Services Intelligence (ISI) is using the island nation to promote its terror activities worldwide.
US becoming nothing more than 'troublemaker': Chinese media
The state-run Chinese media today said that the United States is becoming nothing more than a 'troublemaker' and that it no longer cares about its image as a 'global leader'.
21 killed as MI-8 helicopter crash lands in Russia
MI-8 helicopter crash landed in Russian Siberia's Yamal Peninsula on Friday night due to poor weather conditions, leaving about 21 people dead and 3 injured, officials said today.
Business News
Vodafone announces to offer free national roaming from Diwali
Vodafone has announced that, starting this Diwali, it will be making incoming calls free for customers on national roaming.
Ramdev says was denied US visa
Yoga guru Baba Ramdev, who heads the Rs 4,500-crore Patanjali Group, was once denied a visa to the United States citing his bachelor status and not having a bank account.But later it invited him and gave him a 10-year visa when he was to address the United Nations, which is headquartered in New York, the Yoga guru revealed today.
Entertainment News
Here's the first poster of 'Baahubali 2' that has brought Internet to a standstill
Since cine lovers saw the magnum opus movie 'Baahubali: The Beginning' in the year 2015, they have been waiting with bated breath for the sequel. Though, the second movie of the series will release on April 28, the makers have given little something to the buffs. The first look of the movie released a short while ago at the MAMI Film Festival.
Dangal: Know what Geeta Phogat has to say about Aamir Khan's movie
The trailer of Aamir Khan's 'Dangal' has become one of the topics for discussion since its release. While it impressed all, it also struck a chord with wrestler Geeta Phogat. 'Dangal' is the story of how Geeta's father Mahavir Singh Phogat broke all stereotypes to teach wrestling to her and her sister Babita.
Karanvir Bohra and wife Teejay Sidhu blessed with twin daughters
It is celebration time in life of star couple Karaanvir Bohra and Teejay Sidhu as they welcomed their first born. Teejay gave birth to twin daughters in Canada, where she had gone for maternity leave. Karan is currently shooting for the second season of 'Naagin 2' in India. 
Sports News
After Kochi and Navi Mumbai, Goa gets green signal to host U-17 FIFA World Cup
Signifying Goa as a prominent venue to host an important event, the FIFA high level delegation has given a green signal to the city to host next year's FIFA U-17 World Cup. Earlier, Kochi and Navi Mumbai have played hosts for the tournament.
Guess what Sehwag said about Dhoni & Virat in his latest tweet! Read here
Virender Sehwag, popularly known as 'Viru' among the cricket fans, may have stepped off the cricket pitch a quite while ago, but his comments on social media, especially on Twitter, are making headlines every other day.
Kabaddi World Cup 2016: India beat Thailand 73-20 in semis; will face Iran in final
India hammered Thailand 73-20 in the semi-final clash of Kabaddi World Cup on Friday.