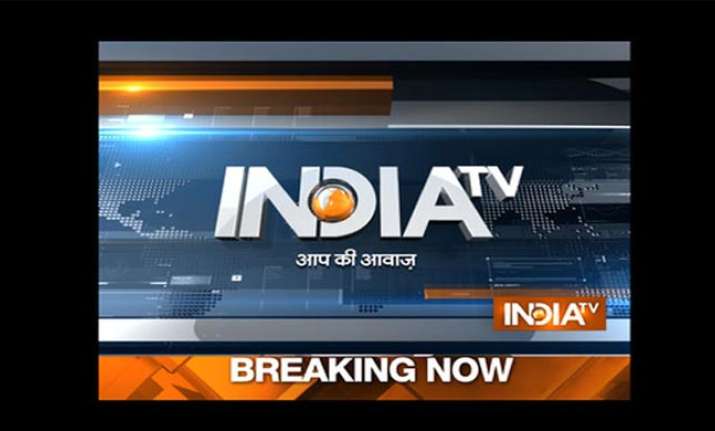 National News
Home Minister Rajnath Singh to highlight Pak-sponsored terror in Russia, US
Home Minister Rajnath Singh will embark on a visit to Russia and the United States in the coming week where he will raise the issue of the neighbouring country sponsoring terrorism in India and discuss efforts to counter ISIS activities in the region. Read more
Jammu and Kashmir: Three infiltration bids foiled; 4 militants killed
Four terrorists who were trying to sneak into India via the Line of Control (LoC) were killed today as Army foiled three infiltration attempts in Kashmir. Read more
Dalit to counter Big B, PM Modi's campaign with 'Badbu Gujarat Ki'
Gujarat's Dalit-led Una Dalit Atyachar Ladat Samiti will launch the postcard campaign against with tagline 'Badbu Gujarat Ki' (stink of Gujarat), in response to the initiative spearheaded by Amitabh Bachchan 'Khushbu Gujarat Ki' (scent of Gujarat). Read more
Amantullah Khan's resignation won't be accepted, it is family's internal matter: Manish Sisodia
A day after Aam Aadmi Party legislator Amanatullah Khan wrote to Delhi Chief Minister Arvind Kejriwal announcing his decision to resign from all posts, Deputy CM Manish Sisodia said the government won't accept Okhla MLA's resignation. Read more
Cricketer Praveen Kumar starts new innings as politician, joins Samajwadi Party
Cricketer Praveen Kumar on Sunday joined the ruling Samajwadi Party (SP), months ahead of the scheduled Uttar Pradesh Assembly polls. Read more
International News
Pakistan says Wagah border crossing open for Afghanistan to trade with India
Pakistan has said it has not stopped Afghan traders to move their goods to India through Wagah border crossing, days after Afghanistan President warned to stop transit facility to Central Asia for Pakistani traders. Read more
Airstrikes kill 90 in Syria after US-Russia ceasefire pact
Hours after the US and Russia reached an agreement on a ceasefire, set to begin on Monday, at least 90 people were killed in airstrikes in northern Syria, authorities announced. Read more
Earthquake shakes Tanzania; 11 dead, over 100 injured
At least 11 people were reportedly killed and 129 injured after an earthquake measuring 5.7 on the Richter scale hit northwest Tanzania. Read more
Business News
Hamsafar trains on track from October, fares to be 20pc higher
After high-speed Talgo successfully completed its trial run today, Railway Ministry has announced the launch of Humsafar trains. Read more
New lending norms by RBI may nudge banks towards retail loans: SBI Chairperson Arundhati Bhattacharya
Stringent norms proposed by Reserve Bank of India (RBI) for corporate lending are expected to nudge banks towards consumer loans, State Bank of India Chairperson Arundhati Bhattacharya has said while reiterating that there is no bubble in the retail segment. Read more
Twitter launches app for Amazon's voice assistant Alexa
Micro-blogging website Twitter has launched an app for Amazons voice platform Alexa, which means you can listen to the latest from Twitter right on your Echo speaker or other Alexa-powered device. Read more
Entertainment News
Akshay Kumar's super awesome tattoo of wife Twinkle's name will make you feel delighted
Akshay Kumar is man of our dreams. Apart from being a superb actor what makes him more attractive is his love and care for his wife and children. Read more
This Bajrangi Bhaijaan song was supposed to be ADHM title track but then this happened!
Pritam Chakraborty reveals that he had initially composed two options for the title track of Ae Dil Hai Mushkil and one of those was eventually used in 2015 release Bajrangi Bhaijaan. Read more
Did Divyanka Tripathi lose this big brand shoot because of husband Vijay Dahiya?
Popular television actress Divyanka Tripathi reportedly lost out on a big project because of her husband Vijay Dahiya. As per media reports, she was approached for a fashion calendar shoot but she asked the brand to include her husband too in the project. Read more
Sports News
US Open 2016: Germany's Angelique Kerber beats Karolina Pliskova in final to win second Grand Slam title of season
Germany's Angelique Kerber on Saturday beat Czech player Karolina Pliskova 6-3, 4-6, 6-4 in the US Open women's final match here to win her second Grand Slam title of the year. Read more
Focus on Rohit as selectors meet to choose Test squad
The below-par Test record of Rohit Sharma is expected to be the focus of discussion when the selection committee, headed by Sandeep Patil, picks the Indian cricket squad for the home Test series against New Zealand, here tomorrow.